Knowing God's Word is the first step in living a life that is pleasing to Him. If you don't know "the rules," it can be difficult to follow them. Psalm 119:11 says, "I have stored up your word in my heart, that I might not sin against you" (ESV). And John 14:26 reminds us that Jesus promised to send the Holy Spirit to "teach you all things and bring to your remembrance all that I have said to you" (ESV).
When you have God's Word "stored up" in your heart and mind, the Holy Spirit can bring them "to your remembrance" to encourage you, to challenge, to correct you, and to guide you. Memorizing Bible verses can be intimidating, but with these tips for Scripture memorization, you can store up God's Word in your heart little by little.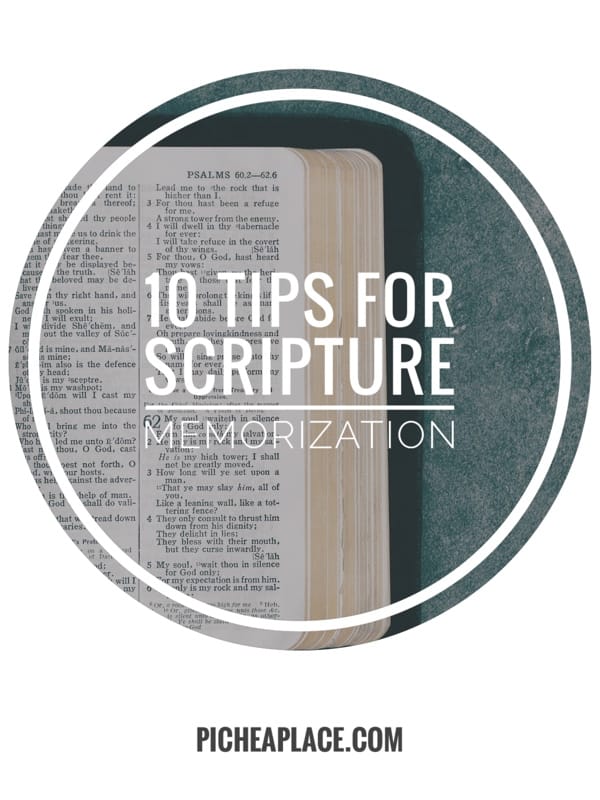 10 Tips for Scripture Memorization
1. Choose a Bible Verse with Special Meaning
Choosing a Bible verse that is relevant to your life or that has special meaning to you makes it easier to memorize. If you're currently struggling with a specific issue or need specific encouragement, memorize a verse that speaks to that topic.
Looking for a topical list of Bible verses to memorize? Here are a few of our favorites –> Bible Verses to Memorize by Topic.
2. Start Small
Choose a short verse when first starting to memorize Scripture. Starting small will not only help you to build a Scripture memory habit but will also help to build your confidence.
12 Short Bible Verses to Memorize:
Romans 3:23 (ESV): "For all have sinned and fall short of the glory of God."
1 Corinthians 15:57 (ESV): "But thanks be to God, who gives us the victory through our Lord Jesus Christ."
1 Chronicles 29:13 (ESV): "And now we thank you, our God, and praise your glorious name."
Proverbs 13:3 (ESV): "Whoever guards his mouth preserves his life; he who opens wide his lips comes to ruin."
Psalm 34:18 (ESV): "The Lord is near to the brokenhearted and saves the crushed in spirit."
Psalm 119:105 (ESV): "Your word is a lamp to my feet and a light to my path."
Proverbs 15:1 (ESV): "A soft answer turns away wrath, but a harsh word stirs up anger."
Philippians 2:13 (ESV): "For it is God who works in you, both to will and to work for his good pleasure."
Matthew 11:28 (ESV): "Come to me, all who labor and are heavy laden, and I will give you rest."
Proverbs 29:25 (ESV): "The fear of a man lays a snare, but whoever trusts in the Lord is safe."
Proverbs 16:9 (ESV): "The heart of man plans his way, but the Lord establishes his steps."
Colossians 2:6 (ESV): "Therefore, as you received Christ Jesus the Lord, so walk in him."
If you focus on memorizing just one verse each month, you can memorize all of these Bible verses listed above in the next year!
3. Write it Down
One of the key ways to learning a new fact or lesson in school is to write it down. The same holds true for scripture memorization. I have found that writing out Scripture helps me to better focus on the words and apply its truth to my heart.
You can use a Write the Word Journal to record the verse(s) you are working to memorize.
4. Recite Scripture
Play a game with your children where each of you have to recite the Bible verse 3-5 times to each other. This is a great addition to your family worship time or can be played before a meal, in the car, or at bedtime.
5. Add the Bible Verse to Your Prayers
When I want to pray for someone or for a specific situation, I start with God's Word. I look for Scriptures that are relevant to the situation, and I begin to pray God's Word. When we pray using Scripture as our foundation, in the proper context, we can be confident that our prayers are in alignment with God's will.
Praying a Bible verse over your husband or children is a great way to personalize God's Word. As you continue to pray the verse over and over, the word will take root in your heart and mind, helping you to memorize them.
6. Display Scripture Around Your House
Write Bible verses on sticky notes, on your bathroom mirror with dry erase markers, or any other fun ways that you can think of to display Scripture around your house.
I love to hang Scripture wall art in the common areas of our home. The constant in-your-face reminder is a great way to keep the words of Scripture fresh in my heart and mind.
Affordable Scripture Wall Art:
7. Use Music to Memorize Scripture
Turning a Bible verse into a song or melody is another fun way to memorize Scripture. Information set to music is the easiest to remember. Using the tune of a children's song, you can turn most any Bible verse into a song.
Our favorite Bible memory songs for kids resource is Seeds Family Worship. We've used their albums to memorize Scripture together in the car and to prepare our hearts for Advent.
8. Turn Scripture Memory into a Game
Turn Scripture memorization into a game for your family. Write the verse on flashcards, leave key words blank, or create a quiz. There are a multitude of fun Bible memory games you can play or create to make the act of memorization a fun experience for your entire family.
9. Carry it with You
Having the Bible verse(s) you are working to memorize with you is a great way to work on them whenever you have a few minutes. I like to carry a packet of Bible verses to memorize and review in my bag.
10. Memorize it Together as a Family
I've found that accountability drives me to success almost 100% of the time. When I set out to accomplish something and bring others along with me, I am much more likely to succeed. When we memorize Scripture together as a family, we are all more invested in the process than when trying to memorize Bible verses on our own.
The Key to Scripture Memorization is Repetition
Whichever of these Scripture memory tips you choose to incorporate, repeat them multiple times to be successful in your Scripture memorization efforts. And once you've memorized a Bible verse, be sure to review it every month or so to keep it fresh in your memory. The more often you repeat and review, the quicker you'll be able to recall!
Want to make Scripture memorization a priority for your family this year?
Be sure to check out our list of 52 Bible Verses to Memorize as a Family!