Saturday was a first for me: I participated in a shoebox "packing party" for Operation Christmas Child. The kids and I spent three hours on Saturday morning working together with other families and individuals to pack 2500 shoeboxes for Operation Christmas Child to send to restricted access countries, and I learned how to pack a shoebox.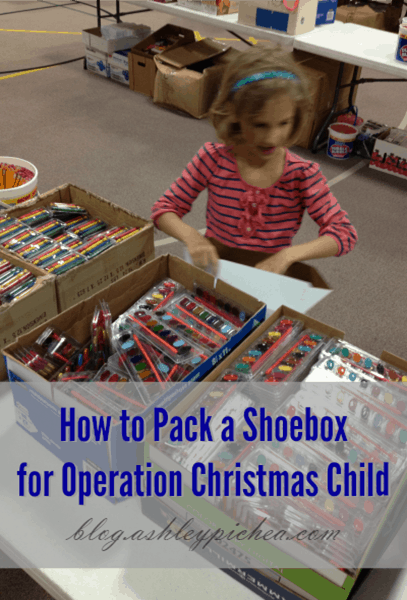 Our church started participating in Operation Christmas Child my senior year of high school, so I didn't grow up packing shoeboxes. That year was my first exposure to this amazing program, but it didn't make a huge impact on me at the time. I vaguely remember running to the Dollar Tree with my small group and buying some random items to put in a box.
While I was in college, my church became incredibly involved in Operation Christmas Child, packing thousands of boxes each year and becoming a drop-off location for all of the area churches and individuals. Several of the lead volunteers even had the opportunity to go and help to hand out the boxes at their destinations.
[While we lived in Indiana, our local church participated in a program called, Christmas Bags for Haiti, so we focused our efforts as a family on helping to provide supplies for those.]
Moving back to Michigan this year, I was excited that we were going to be able to finally be a part of this wonderful process of packing shoeboxes with Operation Christmas Child, but I was worried that I wouldn't know how to pack a shoebox correctly.
I needn't have worried. The OCC volunteer leadership in our area are incredibly organized and skilled communicators. When we showed up on Saturday morning, they had an assembly process all ready to go and with a few simple instructions, we were quickly packing our first shoeboxes.

[David was our photographer, so he didn't make it into any of the pictures.]
How to Pack a Shoebox
1. Select a shoebox.
The first station was the box assembly station. Since I was focused on packing the boxes, I just stopped here to pick up new boxes each time through the assembly line.
2. Label the shoebox.
We had volunteers putting labels on the shoeboxes for us, and we even had a helper marking the correct age and gender for us to save us time in moving down the line.
3. Fill the shoebox.
We filled the shoeboxes with:
coloring books
sandals
paper
crayons
paint kits
pencils
homemade items (bags, cloth blocks, scarves, etc.)
toothbrushes
soap
wash clothes
toys
stuffed animals
a note to let the child know they are loved by God
4. Pray for the shoebox recipient and his/her family.
As we moved from the assembly line to the area where the boxes were being packed into cartons, there was a large sign reminding us to pause and pray for the recipients of the boxes we were carrying. We also paused as a group at least once every hour to pray together over the boxes and the eventual recipients.
For more details about how to pack a shoebox, visit Operation Christmas Child's official "How to Pack a Shoebox" website.
Will you be packing a shoebox this year?
Check out these resources to learn more:
—
This post is in no way sponsored by Operation Christmas Child or Samaritan's Purse. I simply love this ministry and want to do my part in helping to spread the word.