Recently, I posted a photo of myself with a spoonful of coconut oil, and it created quite the buzz. Why? Because I was getting ready to oil pull, and many of my friends had no idea what oil pulling is or the many benefits of oil pulling with coconut oil. Since so many people had questions, I thought I'd share some facts about oil pulling in a post in order to have an easy to share this amazing healthy habit.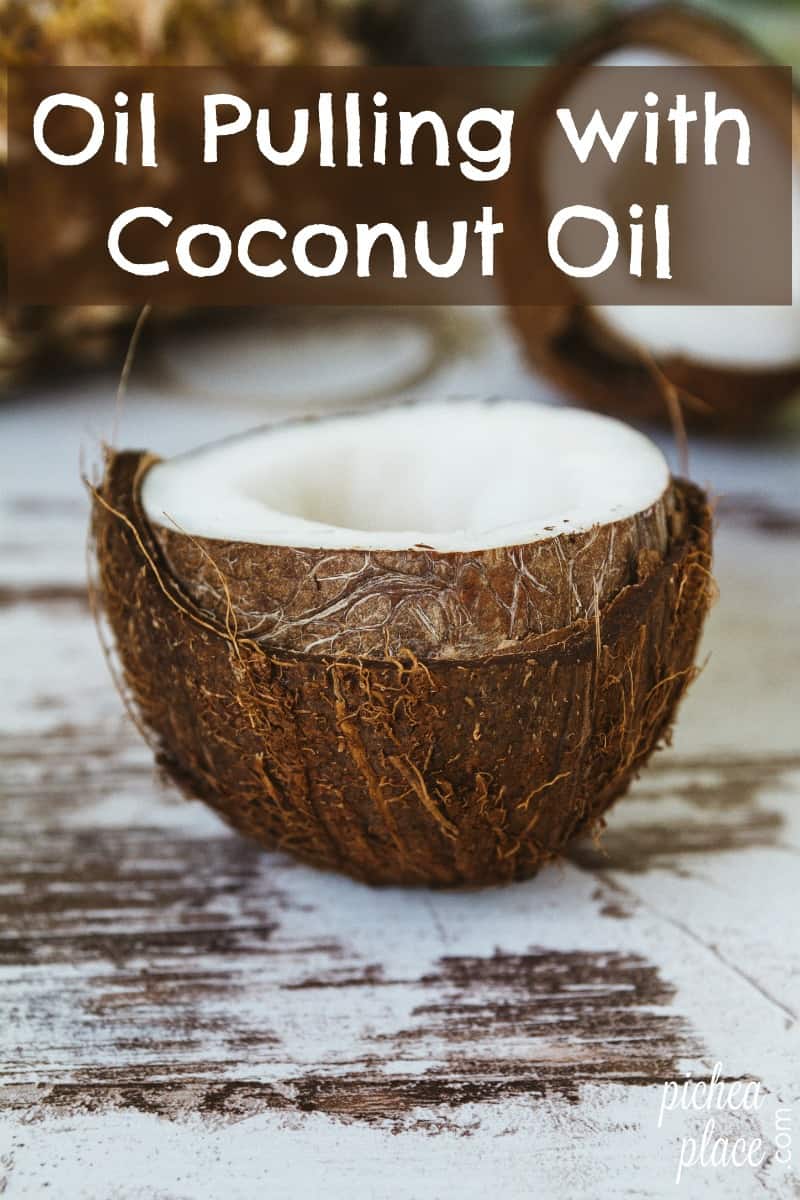 Oil pulling is an age-old method of oral cleansing originating from Ayurvedic medicine. It is one of the most powerful, most effective methods of detoxification and healing in natural medicine. Not only does oil pulling with coconut oil clean and detoxify teeth and gums, but it has the added benefit of whitening teeth naturally and has been shown to improve overall oral health. And although it is incredibly powerful, oil pulling is safe and simple enough for even a child.
According to Dr. Axe, "Oil pulling works by cleaning (detoxifying) the oral cavity in a similar way that soap cleans dirty dishes. It literally sucks the dirt (toxins) out of your mouth and creates a clean, antiseptic oral environment that contributes to the proper flow of dental liquid that is needed to prevent cavities and disease." (source: Coconut Oil Pulling Benefits & How-to Guide)
Common Questions about Oil Pulling:
What is oil pulling?
Oil pulling is the act of swishing ("pulling" between your teeth) a tablespoon of extra virgin organic cold pressed oil (I use coconut oil, but you could use sesame, sunflower, or olive oil if you prefer) in your mouth before spitting it out (do not swallow!) into the trash.
Note: DO NOT swallow the swished oil as it now contains lots of toxins. DO NOT spit into your sink as the oil can clog your drain.
How long do I need to oil pull?
Oil pulling should be done for up to 20 minutes (minimum of 5 minutes). 20 minutes is the ideal time as it is long enough to break through plaque and bacteria but not long enough for the body to begin reabsorbing the toxins and bacteria the oil has pulled from the body. (source: Oil Pulling Therapy)

Do you have to brush your teeth after oil pulling with coconut oil?
After you've swished and spit, brush your teeth with an all-natural, fluoride-free toothpaste and rinse your mouth.

When to do oil pulling?
Oil pulling should be done on an empty stomach – four hours after eating or one hour after drinking. I prefer to do it first thing in the morning.

How many times a day to do oil pulling?
Oil pulling can be done as often as three times a day, depending on how quickly you want to detox. (The more often you do it, the greater the detox symptoms can be, so a slower schedule is recommended to start.) I recommend oil pulling 3-4 times a week.
How to Do Oil Pulling with Coconut Oil
Why do I use coconut oil for oil pulling? Because in addition to the many benefits of oil pulling, coconut oil has additional benefits that I want to take advantage of:
balance hormones
kill candida yeast
improve digestion
moisturize skin
reduce cellulite
decrease wrinkles and age spots
balance blood sugar and improve energy
improve mental abilities
increase HDL and lower LDL cholesterol
burn fat
Plus, I use coconut oil in my cooking (because of the benefits listed above), so I always have a large jar of it sitting on my kitchen counter, which makes it super convenient.
I like to do oil pulling first thing in the morning – before I eat, drink, or brush.
Gently swish 1-2 tablespoons of coconut oil in your mouth and between your teeth for 20 minutes (no less than 5 minutes), being sure not to swallow.
Spit the dirty oil into the trash and rinse your mouth with warm water.
Brush your teeth.
What are Some Benefits of Oil Pulling?
The most obvious benefits of oil pulling include a natural and safe way to whiten teeth and kill the germs associated with bad breath. But did you know that oil pulling has other benefits?
cures tooth decay
kills bad breath
heals bleeding gums
prevents heart disease
reduces inflammation
soothes throat dryness
prevents cavities
heals cracked lips
boosts immune system
improves acne
strengthens gums and jaw
correcting hormone imbalances
may help with gastro-enteritis
may reduce symptoms of bronchitis
some people report improved vision
aids in reducing pain
helps detoxify the body of harmful metals and organisms
I also have heard testimonies from people who have seen amazing health benefits with oil pulling including improvement of skin conditions, allergies, arthritis, asthma, headaches, hormone imbalances, infections, insomnia, kidney function, liver problems, sinus congestion, and more.
Have you ever tried oil pulling?
Share your experience with us –> Click here to comment.