We love Dr. Seuss at our house, and we're excited to celebrate his birthday in a few weeks (March 2nd). Today we're making a list of some of our favorite Dr. Seuss books and corresponding crafts, recipes, and activities to help us get ready for a full day of fun on his birthday!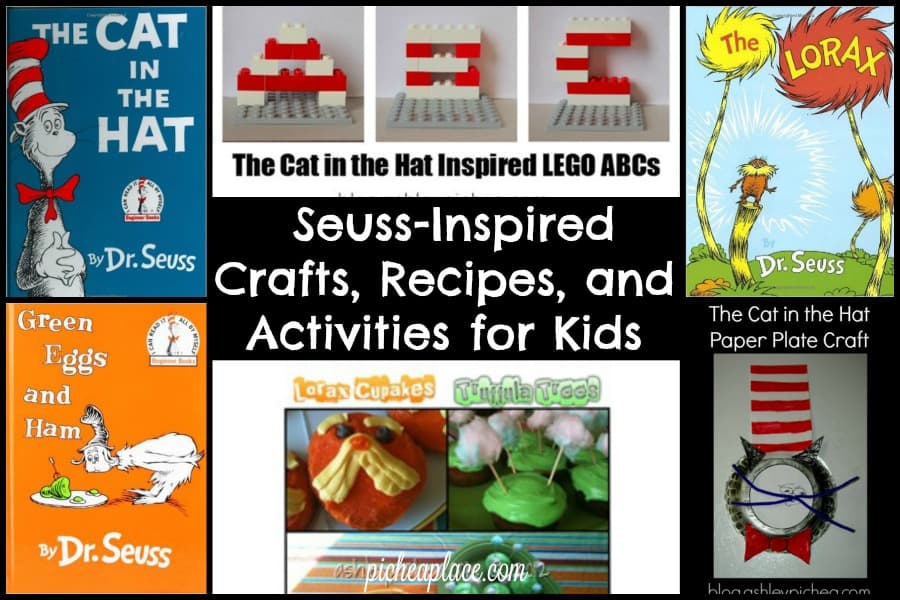 Related: Dr Seuss activities for kids
The Cat in the Hat
Poor Dick and Sally. It's cold and wet and they're stuck in the house with nothing to do . . . until a giant cat in a hat shows up, transforming the dull day into a madcap adventure and almost wrecking the place in the process! Written by Dr. Seuss in 1957 in response to the concern that "pallid primers [with] abnormally courteous, unnaturally clean boys and girls" were leading to growing illiteracy among children, The Cat in the Hat (the first Random House Beginner Book) changed the way our children learn how to read.
This book is a classic… and the movies (both the short-length and full-length versions) are a big hit at our house.
My kids love getting to ride The Cat in the Hat ride at Universal Islands of Adventure when we visit – it's been months since our last visit, and my two-year-old still talks about the ride on a regular basis! And meeting the Cat and Things 1 & 2 were a huge highlight of our most recent trip.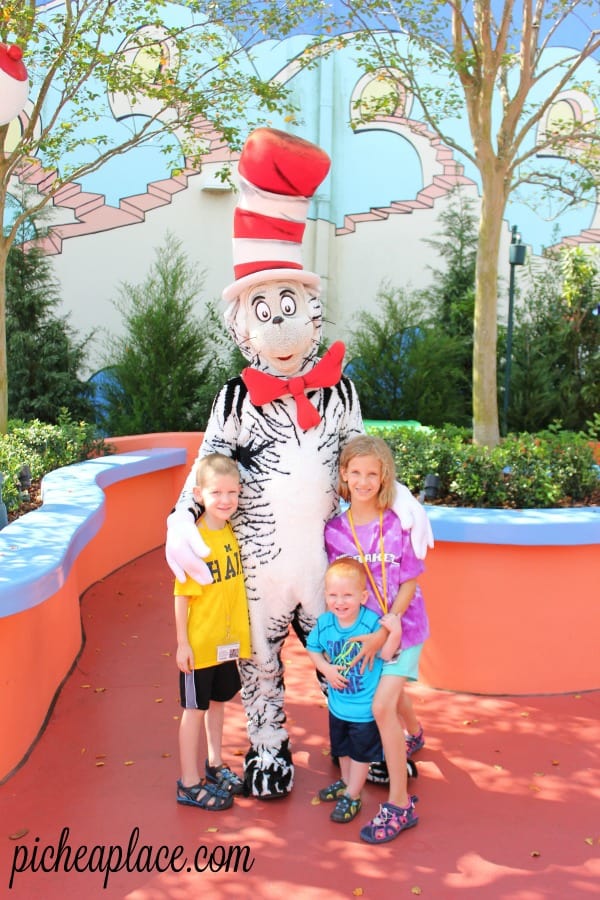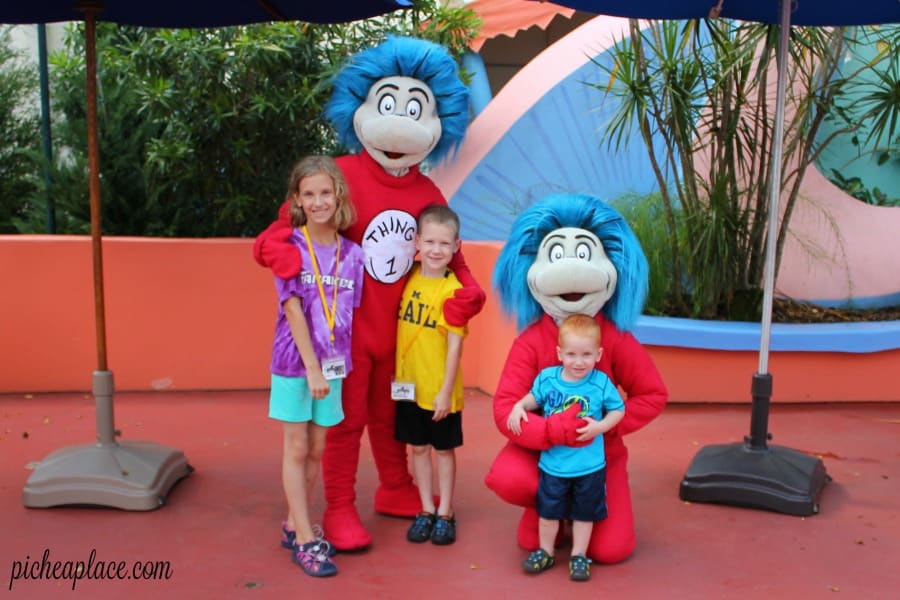 And if you love the Cat in the Hat as much as we do, you'll love the PBS Kids series "The Cat in the Hat Knows a Lot About That." It's a show that's on frequently around here – all three kids (2, 7, and 9) love to watch it and learn along with the Cat in the Hat!
The Cat in the Hat: Crafts, Recipes, & Activities
Green Eggs and Ham
"Do you like green eggs and ham?" asks Sam-I-am in this Beginner Book by Dr. Seuss. In a house or with a mouse? In a boat or with a goat? On a train or in a tree? Sam keeps asking persistently. With unmistakable characters and signature rhymes, Dr. Seuss's beloved favorite has cemented its place as a children's classic. In this most famous of cumulative tales, the list of places to enjoy green eggs and ham, and friends to enjoy them with, gets longer and longer. Follow Sam-I-am as he insists that this unusual treat is indeed a delectable snack to be savored everywhere and in every way.
This is such a fun book to read with emerging readers – the rhyming and patterns coupled with the interesting characters have made it a favorite at our house.
We got to "meet" Sam-I-Am this past fall when we visited Seuss Landing at Universal Islands of Adventure – the kids thought it was awesome!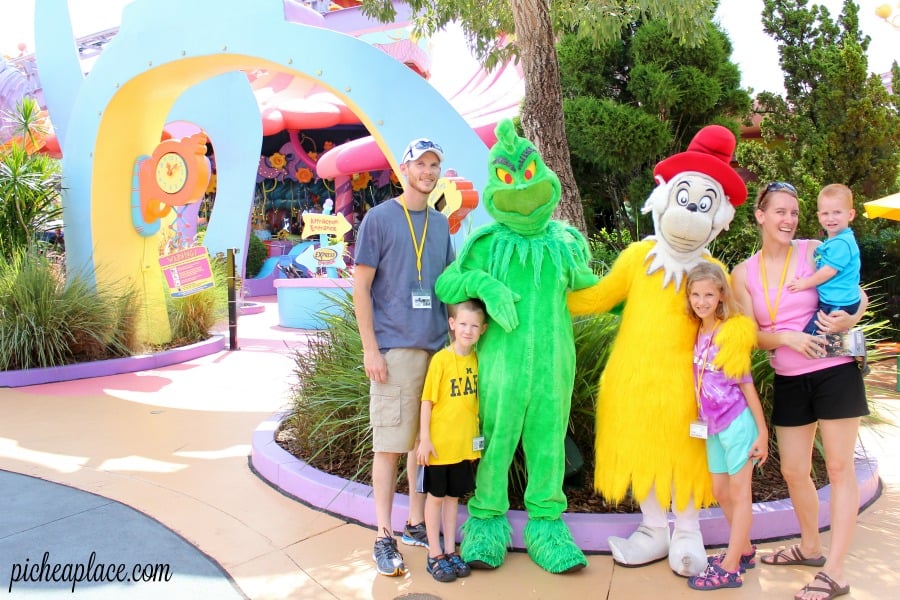 I think I'm going to be serving Green Eggs & Ham for breakfast on March 2nd this year!
Green Eggs and Ham: Crafts, Recipes, & Activities
Green Eggs & "Bacon" treats
Green Eggs and Ham Bath
The Lorax
"Unless someone like you…cares a whole awful lot…nothing is going to get better…It's not." Long before saving the earth became a global concern, Dr. Seuss, speaking through his character the Lorax, warned against mindless progress and the danger it posed to the earth's natural beauty.
We fell in love with the Lorax the first time we visited Universal Islands of Adventure in 2012 – about the same time the full-length movie came out in theaters. We saw the movie during our trip, and it was made even more special when the kids got to visit the Lorax's house in Seuss Landing.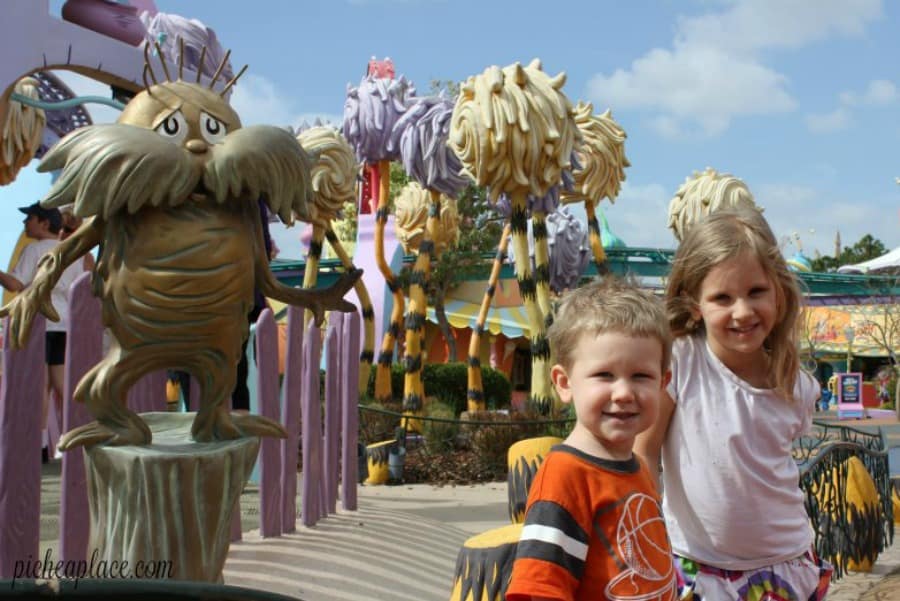 By the time we got home from that trip, David was completely obsessed with The Lorax. We ended up purchasing a copy of the book, the short-length movie, the full-length movie, a Lorax plush, and even had a Lorax-themed birthday party for him a few years later.
The Lorax: Crafts, Recipes, & Activities
The Lorax dinner makeover
More Seuss-Inspired Fun
There are so many other great Dr. Seuss books and corresponding crafts, recipes, and activities… we just don't have time to do ALL of them in one day! Check out this list of 500+ Dr. Seuss Activities, Crafts, and More for Kids and be sure to browse all of our Dr. Seuss posts!
What Seuss-inspired fun will you be doing as a family to celebrate Dr. Seuss' birthday on March 2nd??