With all the changes to your body during pregnancy, it can be difficult to get a good night's sleep. After several months of struggling with sleep, we made a budget-friendly change to our bed that has resulted in better sleep during pregnancy and beyond.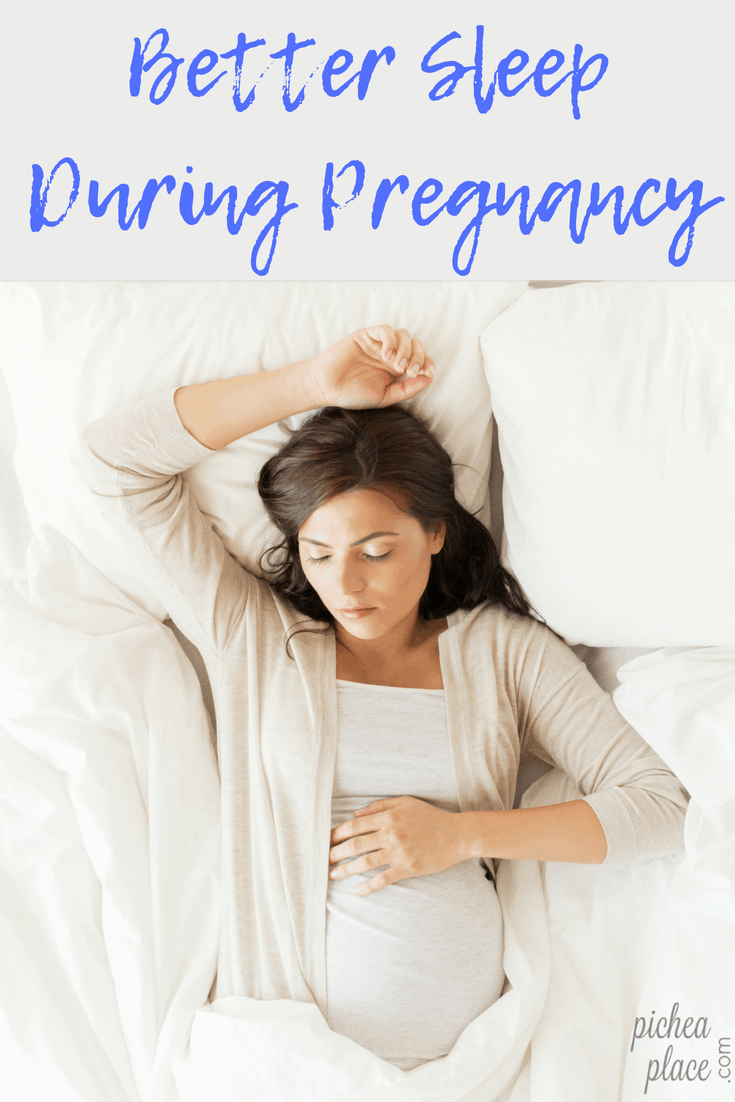 Problematic Sleep During Pregnancy
About the time I hit the second trimester of my current pregnancy, I started waking up multiple times a night in quite a bit of pain. And the lack of a solid night's sleep was starting to adversely affect my ability to function during the day.
I knew there had to be a way to get better sleep during pregnancy. But when I realized the source of the problem I was having was my mattress and my pillow(s), I worried about the effect on our budget. We didn't have the money to buy an expensive new mattress.
A "New" Mattress at a Fraction of the Cost
While we loved our mattress when we first purchased it eight years (and three pregnancies) ago, the top layer had large body-sized dents in it where we each sleep. Even with semi-regular rotation, we were at a point where it wasn't "fixable," and it was causing a lack of support while we slept.
That lack of support was a source of significant back pain and discomfort for both my husband and me. I was especially experiencing pain in my lower back and pelvis due to the changes happening in my body during the early stages of my pregnancy.
Since a brand new mattress wasn't really in the budget, we started researching mattress toppers. We found out that MyPillow® had an affordable mattress topper option, and we decided to check it out.
MyPillow® Mattress Topper is made up of 3 unique layers:

Bottom Layer – MyPillow® patented foam, in a solid piece, provides superior support and durability
Middle Layer – Transitional foam provides optimal comfort, evenly distributes body weight and helps relieve pressure points
Top Layer – Cover made from Phase Change Material to keep your body temperature regulated throughout the night

Other MyPillow® Mattress Topper Facts:

Zippered Removable Cover is washable and dryable
Four corner straps to hold your topper in place
No wires, remotes or moving parts
10-Year Warranty
Our new mattress topper from MyPillow® has been a great investment as both my husband and I are experiencing better sleep and less discomfort and back pain. I no longer wake up multiple times a night in pain, and he has been sleeping soundly as well.
Getting a "new mattress" at a fraction of the cost has helped me get better sleep during pregnancy. I'm looking forward to many more years of great sleep on it!
A Better Pillow for Better Sleep During Pregnancy
Since we were getting a new mattress topper from MyPillow®, we decided to go ahead and upgrade our pillows as well. We'd been frustrated with the ones we were using as they were continually losing their shapes and becoming non-supportive.
MyPillow®'s patented interlocking fill adjusts to your individual sleep needs regardless of sleeping position, allowing MyPillow® to hold that position all night, helping you fall asleep faster and stay asleep longer.
Since getting the MyPillow® pillows, we've both noticed a definite lack of "sore necks" in the morning. And our pillows are still as fluffy as the day we unboxed them several months ago.
Better Sleep During Pregnancy and Beyond
Getting a good night's sleep when you're pregnant is important, but it can be a challenge. Waking up in pain because your mattress is saggy or your pillow gave out doesn't have to be your reality. And getting better sleep during pregnancy doesn't have to mean buying an expensive new mattress, either.
We used our Amazon Prime account (get a free 30-day trial) and Amazon Prime Rewards Visa Signature Card (learn more here) to purchase our MyPillow® products on Amazon.com. Not only did we get expedited shipping for free, but we also earned 5% cash back on the purchase, saving us even more money!
Finding a great deal on MyPillow® products on Amazon.com helped us make a budget-friendly change to our bed, and we're so thrilled with the better sleep we're getting!