This shop has been compensated by Collective Bias, Inc. and its advertiser. All opinions are mine alone. #GIVEEXTRAGETEXTRA #Walmart #CollectiveBias
If you're a mom, you know exactly what I'm talking about when I say that having a "keep kids quiet" pack in my bag is a MUST, no matter the ages of your children. There will always be some scenario where you find yourself needing to "assist" your lovely little angels in sitting still and staying (mostly) quiet – whether it's at church (anybody else tend to find yourself in a row full of kids bookended by two or three parents each week) or in a waiting room or at an older sibling's performance or recital. That's why I've created this simple tutorial for making a "keep kids quiet" pack to keep in your bag – something that you won't want to leave home without!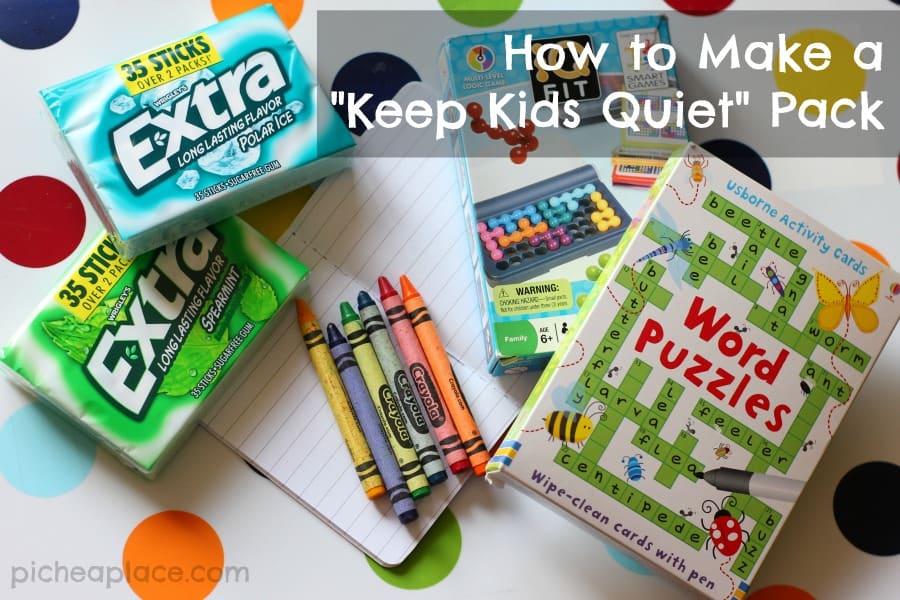 Step One: stock up on snacks and gum
If kids have something in their mouths, they're less likely to fidget and make noise – right? It's my theory, and I'm sticking with it. That's why I keep a small arsenal of snacks and gum in my "keep kids quiet" pack:
fruit snacks
raisins
granola bars
hard candies
gum
Side Note: I was in Walmart last week picking up some groceries, and I noticed they have the new Extra® 35-stick packs (available in Polar Ice® and Spearmint) in the checkout lanes now.

These are PERFECT for stocking my "keep kids quiet" packs because I'm forever running out of gum, especially when my pack of gum gets passed down the entire row every Sunday morning.

I love being "the gum mom" for my kids and their friends, and now I can be sure to have enough for everyone!
Step Two: stock up on QUIET activities
The quiet activities you choose to carry will greatly depend on the age(s) of your child(ren). Since my own kids currently range from 2-9, I try to have at least one activity for the toddler (almost 3) and one that will interest and occupy the older two (7 & 9). If I can find an activity that will occupy all three of the kids, that's a major win!
Currently, I rotate several items in and out of my "keep kids quiet" pack so the kids don't get bored with the same items each week:
wipe-off activity cards and dry erase markers/crayons
small pad of paper and pens/pencils
deck of cards
sticker books
coloring books and crayons
a book or two
Step Three: find a pack
When you're thinking about making a "keep kids quiet" pack, you want to consider the bag you regularly carry and how large a pack you can add to it without overwhelming yourself. I chose a clear gallon-sized freezer bag to use as my pack – it zips closed and fits nicely in next to my other purse packs without taking up too much space.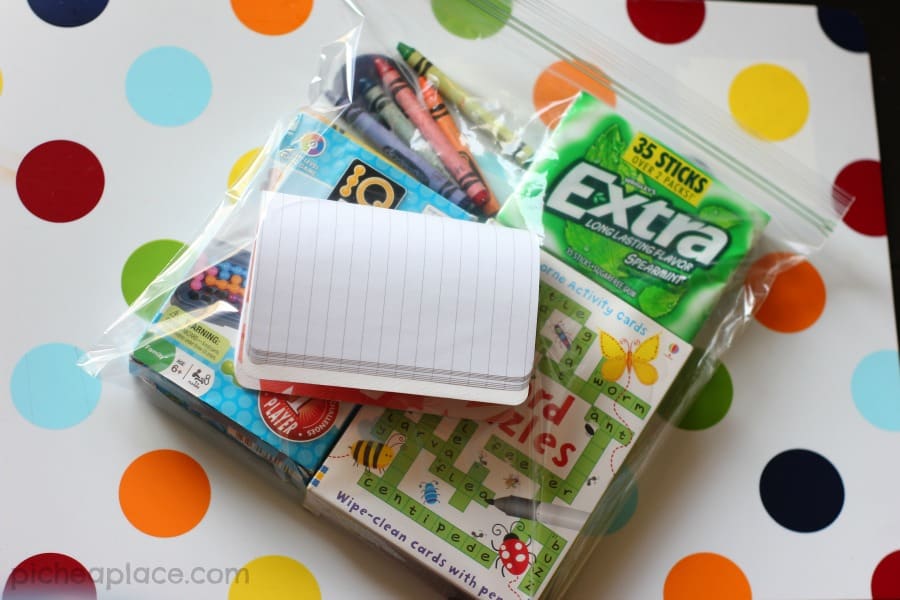 Step Four: put it all together
Once you have all the pieces to your "keep kids quiet" pack gathered together, it's time to assemble it and put it in your bag!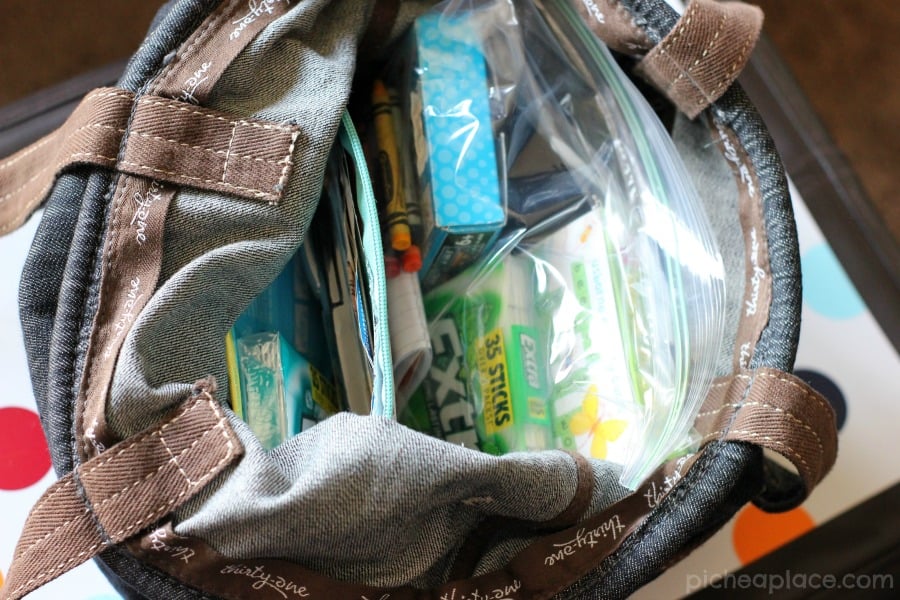 Do you have a "keep kids quiet" pack that you carry?
What types of activities and snacks do you carry with you to keep your kids quiet? Are you known as "the gum mom" among your kids' friends?