If you're married to an angry spouse, you can find yourself at a loss for how to pray. Use these Scriptures to springboard your prayer for angry spouse…
---
Praying God's Word for your marriage is one of the most powerful ways to watch God at work in your husband/wife's life. When you pray the Scriptures for your spouse, you know that you are praying the will of God for his/her life, and you can have confidence that God wants the same for him/her as you do.
If your spouse is struggling with anger, use these Bible verses about anger as a springboard for your Scripture-based prayer for angry spouse, knowing that God wants to deliver him/her from this struggle.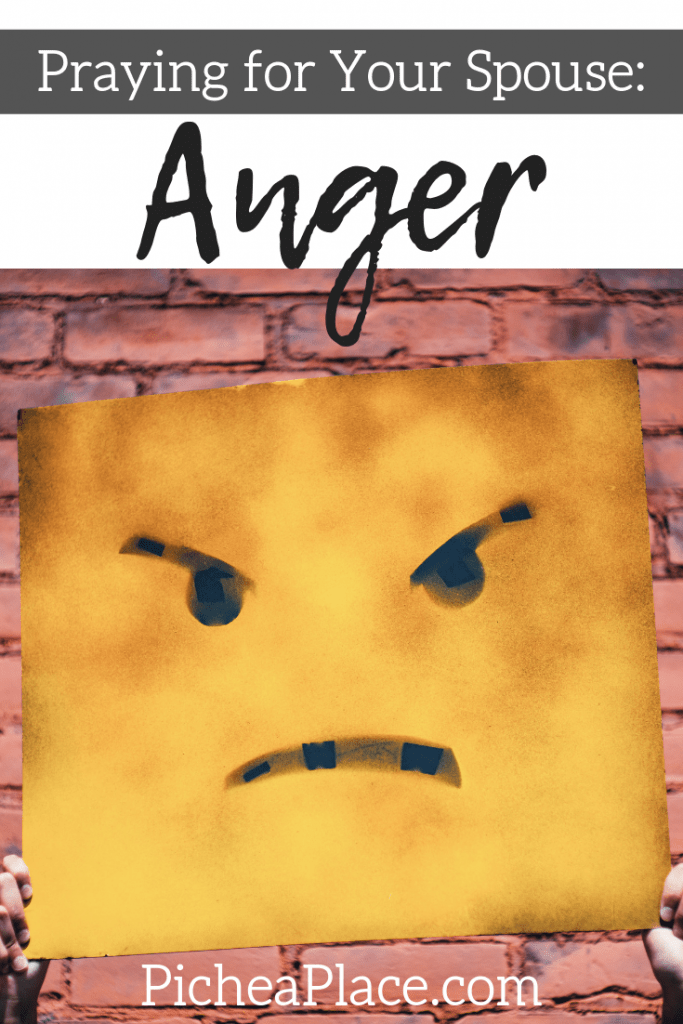 Scripture-Based Prayer for Angry Spouse
Note: The following prayers for an angry spouse are written from a wife's perspective but can be easily altered for a husband to pray for a wife.
Bible-Based Prayer for Angry Spouse from Old Testament Scriptures
Psalm 37:8-9
Refrain from anger and turn from wrath; do not fret–it leads only to evil. For evil men will be cut off, but those who hope in the LORD will inherit the land.
So often, our anger is a result of not being "in control" of circumstances. Help ___ to know and trust that You are fully sovereign over every detail of his life. May he rest in that knowledge, refraining from anger and turning from wrath.
Proverbs 15:1
A gentle answer turns away wrath, but a harsh word stirs up anger.
Lord, let me be an example to ___ in how I choose my words and tone. May my gentle answer help to turn away wrath or any stirring up anger.
Proverbs 15:18
A hot-tempered man stirs up dissension, but a patient man calms a quarrel.
When ___ is tempted to be hot-tempered, may Your Spirit guide him into patience.
Proverbs 16:32
Better a patient man than a warrior, a man who controls his temper than one who takes a city.
Father, I pray that ___ would learn to tap into the power of the Holy Spirit to be able to control his temper and exercise patience.
Proverbs 19:11
A man's wisdom gives him patience; it is to his glory to overlook an offense.
Lord, I pray that ___ would be quick to overlook an offense. May he practice patience in lieu of reacting in anger when someone upsets him.
Proverbs 22:24
Do not make friends with a hot-tempered man, do not associate with one easily angered.
Lord, it is difficult to be married to an angry spouse. I pray that You would, by Your Spirit, grow in him a peace that results in patience.
Proverbs 29:11
A fool gives full vent to his anger, but a wise man keeps himself under control.
I pray that ___ would be known for his self-control. Do not let him give 'full vent' to his anger but restrain himself.
Ecclesiastes 7:9
Do not be quickly provoked in your spirit, for anger resides in the lap of fools.
Your Word says that "anger resides in the lap of fools." I pray that ___ would be quickly provoked in his spirit, allowing anger to take up residence in his heart. Instead, I pray that he would be quick to forgive any offense – perceived or real.
Bible-Based Prayer for Angry Spouse from the New Testament
Ephesians 4:26, 31
"In your anger do not sin": Do not let the sun go down while you are still angry, and do not give the devil a foothold… get rid of all bitterness, rage and anger, brawling and slander, along with every form of malice.
God, I pray that ___ would not allow the devil to have a foothold because of anger he will not release. By Your Spirit, I ask that You would release him from any anger he may be holding on to. Help him to get ride of all bitterness, rage, and anger. May his heart be free from malice and his lips free from slander.
Colossians 3:8
But now you must rid yourselves of all such things as these: anger, rage, malice, slander, and filthy language from your lips.
I pray that ___ would rid himself of all anger, rage, malice, slander, and filthy language from his lips. I know this can only come about through the work of Your Spirit in his heart.
James 1:19-20
My dear brothers, take note of this: Everyone should be quick to listen, slow to speak and slow to become angry, for man's anger does not bring about the righteous life that God desires.
May ___ be quick to listen, slow to speak, and slow to become angry. Help ___ to seek the righteous life that You desire for him, not one encased in anger.
Praying for Your Spouse
If you were encouraged by the prayer for angry spouse prompts above, you may want to check out some of our other praying for your spouse resources…

---
We Also Recommend:
---
This article was originally posted in January 2016. It was most recently updated in July 2019.