Praying God's Word for your marriage is one of the most powerful ways to watch God at work in your husband/wife's life. When you pray the Scriptures for your spouse, you know that you are praying the will of God for his/her life, and you can have confidence that God wants the same for him/her as you do. If your spouse is struggling with a lack of peace, pray these Scriptures for him/her, knowing that God wants to bless him/her with peace beyond understanding…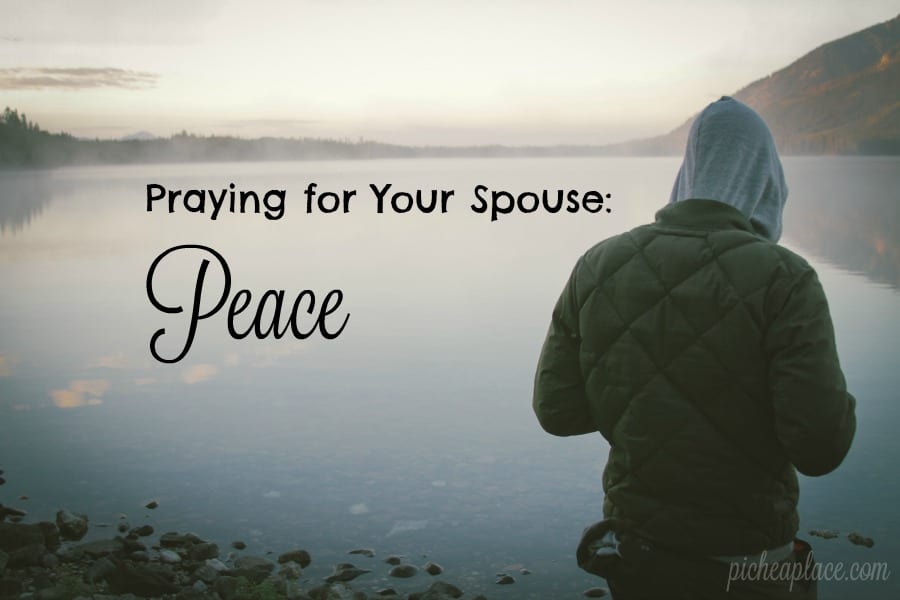 Bible Verses about Peace
Psalm 29:11 May the Lord give strength to his people! May the Lord bless his people with peace!
Psalm 34:14 Turn away from evil and do good; seek peace and pursue it.
Psalm 37:37 Mark the blameless and behold the upright, for there is a future for the man of peace.
James 3:17 But the wisdom from above is first pure, then peaceable, gentle, open to reason, full of mercy and good fruits, impartial and sincere.
Romans 8:6 For to set the mind on the flesh is death, but to set the mind on the Spirit is life and peace.
Hebrews 12:14 Strive for peace with everyone, and for the holiness without which no one will see the Lord.
Numbers 6:24-26 The Lord bless you and keep you; the Lord make his face to shine upon you and be gracious to you; the Lord lift up his countenance upon you and give you peace.
Colossians 3:15 And let the peace of Christ rule in your hearts, to which indeed you were called in one body. And be thankful.
2 Corinthians 13:11 Finally, brothers, rejoice. Aim for restoration, comfort one another, agree with one another, live in peace; and the God of love and peace will be with you.
Philippians 4:6-7 Do not be anxious about anything, but in everything by prayer and supplication with thanksgiving let your requests be made known to God. And the peace of God, which surpasses all understanding, will guard your hearts and your minds in Christ Jesus.
Romans 15:13 May the God of hope fill you with all joy and peace in believing, so that by the power of the Holy Spirit you may abound in hope.
Romans 14:17-19 For the kingdom of God is not a matter of eating and drinking but of righteousness and peace and joy in the Holy Spirit. Whoever thus serves Christ is acceptable to God and approved by men. So then let us pursue what makes for peace and for mutual upbuilding.
John 16:33 I have said these things to you, that in Me you may have peace. In the world you will have tribulation. But take heart; I have overcome the world.
Isaiah 26:3 You keep him in perfect peace whose mind is stayed on You, because he trusts in You.
Psalm 119:165 Great peace have those who love Your law; nothing can make them stumble.
Other Posts You Might Like
15 Bible Verses to Pray for Your Marriage
31 Days to Pray for Your Spouse Challenge
Pray for Your Spouse: Depression & Anxiety