Finding time to date your spouse can be a challenge, especially during the busy back-to-school season. But we know that prioritizing our spouses is the key to a marriage that is thriving versus barely surviving. That's why we're sharing some fall date ideas for busy parents to help you make the most of the time you have together.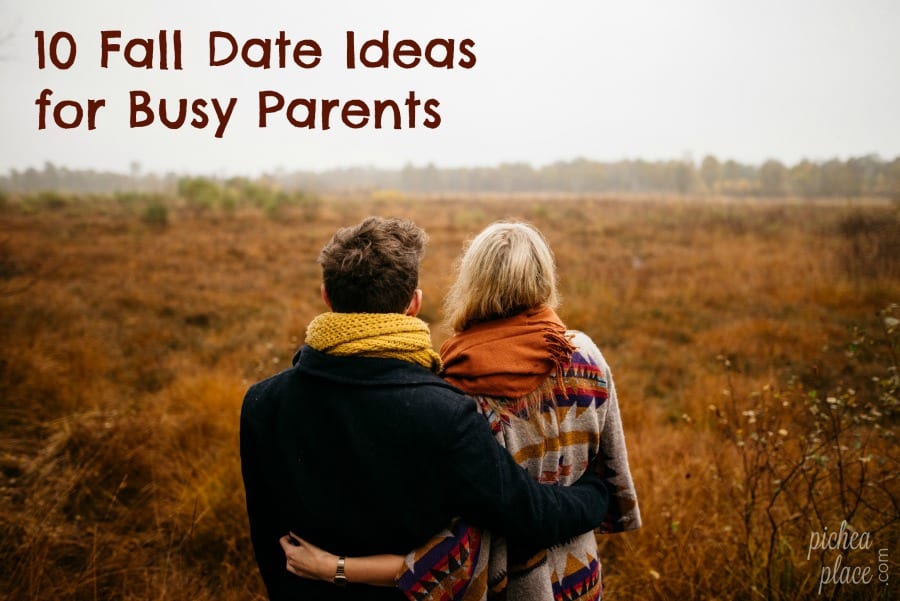 10 Fall Date Ideas for Busy Parents
1. Go on a Hay Ride
It's the perfect time of year to grab a blanket and head to a local farm or apple orchard and enjoy a cozy hay ride together. Nighttime hay rides can be especially romantic.
2. Roast S'mores
We've got our eye on this gorgeous fire pit for our back patio, and it'd be the perfect place to spend some quiet time together after the kids are in bed. Roasting s'mores would be the sugar on top of a great night of communication.
3. Visit an Apple Orchard
Fall is the perfect time to pick apples, drink cider, and bake apple pies! Spend an afternoon at the local apple orchard, then bring your bounty home and enjoy time together in the kitchen. Our local orchard has live concerts on the weekend – a perfect way to spend the afternoon or evening with your spouse!
4. Spend an Afternoon in a Hammock
While nights tend to be a bit on the cool side, most fall afternoons are quite comfortable temperature-wise. It's the perfect time of year to buy a hammock on clearance and enjoy a quiet afternoon reading together or just talking.
We are currently reading Cherish: The One Word That Changes Everything for Your Marriage together.
Grab your laptop, some comfy cushions, a blanket, and your favorite movie snacks for a fun night of movie watching under the stars. It's a great way to escape the house without having to hire a babysitter for the kids!
When you do have to hire a babysitter, be sure to check out these tips for keeping kids safe with a babysitter, download this free babysitter checklist printable, and check out these fun activities for your kids and the babysitter.
6. Go to a Football Game
We LOVE attending football games together in the fall… especially if we're rooting on our favorite college team! Stay local (high school or college) or take a trip to the big city (college or professional), and cheer on your favorite teams together.
I love wearing my "Fall is for Football" shirt when we go to games together!
7. Visit a Pumpkin Patch & Carve Pumpkins
I still remember our first Halloween after we got married. I don't remember where we got our pumpkins, but I do vividly remember carving pumpkins together on our tiny kitchen table in our tiny apartment. I'd love to recreate that memory this fall with my husband!
8. Go on a Coffee Date
Sometime you don't want to spend a lot of money (after all, you probably had to hire a babysitter), and the local coffee shop is the perfect place to spend a few hours dating your spouse on a budget. Our favorite coffee shop often has buy one, get one coupons, making it a perfect budget-friendly date idea!
9. Go Camping in Your Backyard
Fall is the perfect time to set up a tent and spend the night under the stars. (If you don't already have a tent, it's also the perfect time to snag a great deal at the end-of-season clearance event at your local sporting goods store.) Put the kids to bed, grab the baby monitor, and enjoy sleeping under the stars together.
10. Take a Hike
Fall is the perfect time to take a hike through the local nature preserve. The trees are changing colors, and the air is nice and crisp. Plus, who doesn't need an excuse to hold hands once in a while?!?
For more great fall date ideas for busy parents, check these links out:
And be sure to check out our Perfect Date Ideas for Busy Parents board on Pinterest!