This shop has been compensated by Collective Bias, Inc. and its advertiser. All opinions are mine alone. #ScrubTheMess #CollectiveBias
Sending your kids in to clean the bathroom can be a risky move, but when you arm them with the knowledge and tools they need, you can successfully hand over the bathroom cleaning duties (just be sure an adult supervises the toilet cleaning). Here are a few tips for teaching kids to clean the bathroom…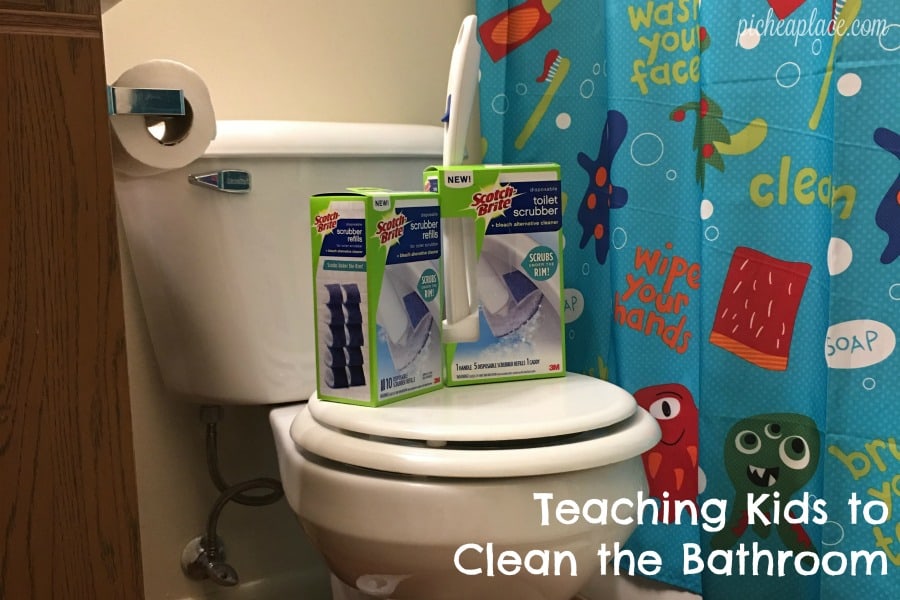 As the kids are getting older, we're handing off more of the household cleaning responsibilities to them. While some might consider us "lazy parents" because we expect our kids to clean the house for us, in reality, we're not. (OK, so sometimes we are, but that's not the true purpose behind making our kids clean the house.)
Our purpose in handing over the cleaning responsibilities is multi-faceted:
To raise independent, self-sufficient adults.
To raise individuals who are responsible enough to clean up after themselves and not be turned off by occasionally having to clean up someone else's mess.
To spread the load of work required to maintain a home with multiple people living it.
To allow us (as parents) to focus on other tasks that are also necessary for our family to live comfortably.
I'm sure I'm probably missing a few reasons, but these are the major reasons for handing over household cleaning tasks.
Oh, and if you're wondering, we don't pay an allowance for these routine household cleaning tasks… but that's another post altogether.
They've already taken over loading/unloading the dishwasher, vacuuming, dusting, and sweeping. Now it's time to hand over the bathroom cleaning. But as we discovered with the kitchen cleanup, it's best to have a road map for them to follow to make sure that they're fully aware of all the tasks we expect them to complete.
Teaching Kids to Clean the Bathroom
Step One: Create a Bathroom Cleaning Chart for Kids
I use a variety of programs to create printables, but for something like this, I prefer to use PicMonkey. You can use whatever program you're most comfortable with for creating your own bathroom cleaning chart.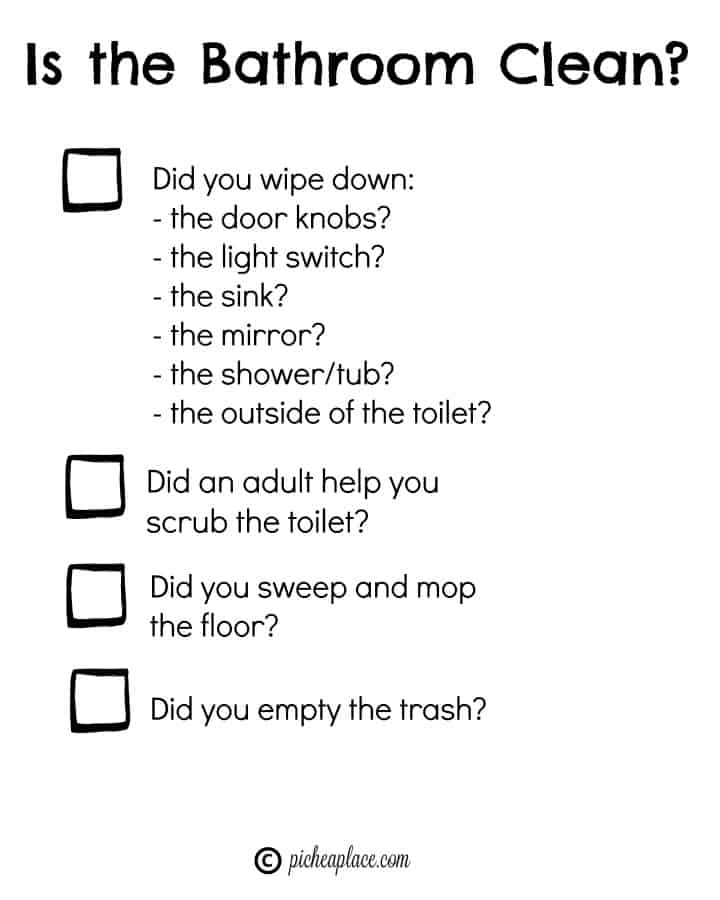 Once I had the chart created, I printed it out and laminated it before hanging it on the inside of the bathroom under-the-sink cabinet.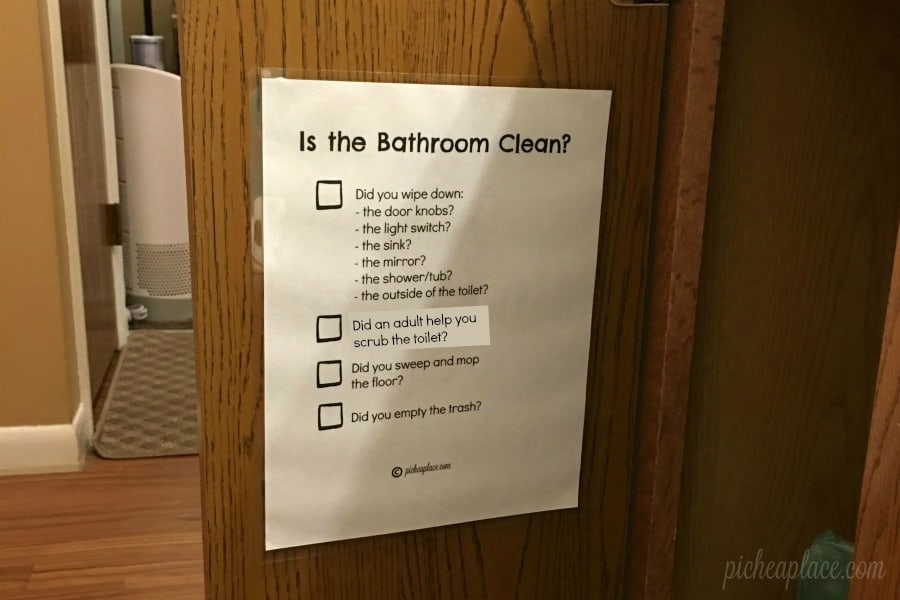 Step Two: Demonstrate How to Clean the Bathroom
Since we live in a small apartment, cleaning the bathroom is a fairly easy job since it's small.
We start by wiping down all the hard surfaces with an anti-bacterial cleaning cloth: door knobs, light switch, mirror, sink, shower/tub, outside of toilet, etc. (And in that order so we're not wiping germs from the toilet onto the door knob!)
Then we clean the inside of the toilet bowl with our Scotch-Brite® Disposable Toilet Scrubber. I love that the built-in bleach alternative cleaner with pumice scrubs away rust & hard water stains, and the flexing head design allows maximum contact with the toilet bowl!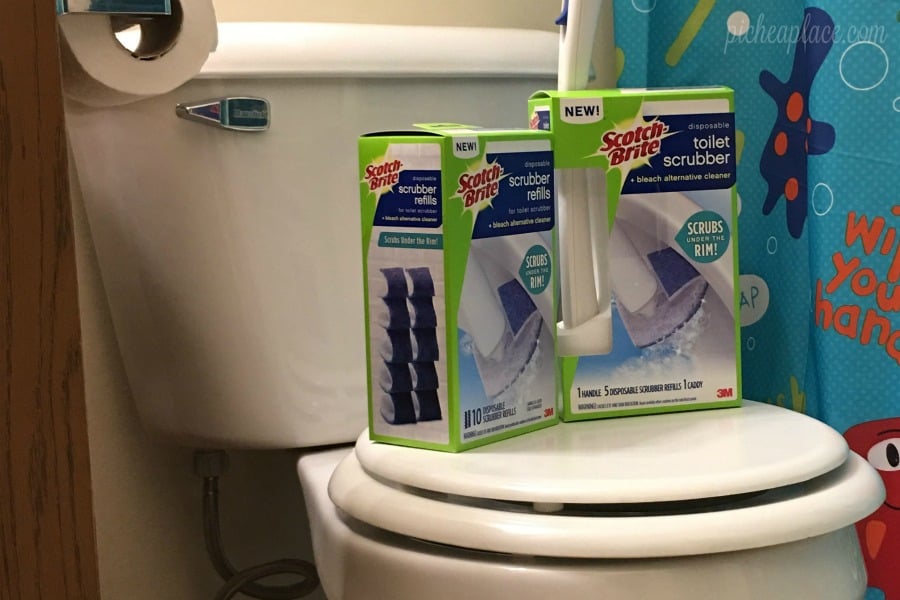 We recently stopped in our local Kroger store and picked up the Scotch-Brite® Disposable Toilet Scrubber and a pack of Scotch-Brite® Disposable Scrubber Refills. They were on sale, and there was even an Instant Redeemable Coupon on the Scotch-Brite® Disposable Toilet Scrubber (look for the "Try Me Now! Save $2" coupon on the package) that I was able to use at the checkout!

I love that the slim design of the storage caddy fits nicely beside the toilet – which is super important when you live in small spaces!
After all the germy surfaces have been cleaned, we sweep and mop the floor.
Then we finish by taking out the trash.
Step Three: Watch the Kids Clean the Bathroom
After you've shown your kids how to clean the bathroom correctly, now it's their turn to try it out (with adult supervision when they're ready to clean the toilet bowl). Be sure to watch them and talk them through any spots where they get stuck the first couple of times they clean the bathroom.
What's your kids' bathroom cleaning routine? Get more bathroom cleaning inspiration here.