We are so excited to be homeschooling again this year (after a two year hiatus)! It's been difficult to narrow down our list of "want to learn" topics and subjects, but we've done our best. We've managed to choose our homeschool curriculum for the year and attempted to put together a schedule to keep ourselves on track. Here's what we'll be learning/using this year, and our tentative weekly schedule…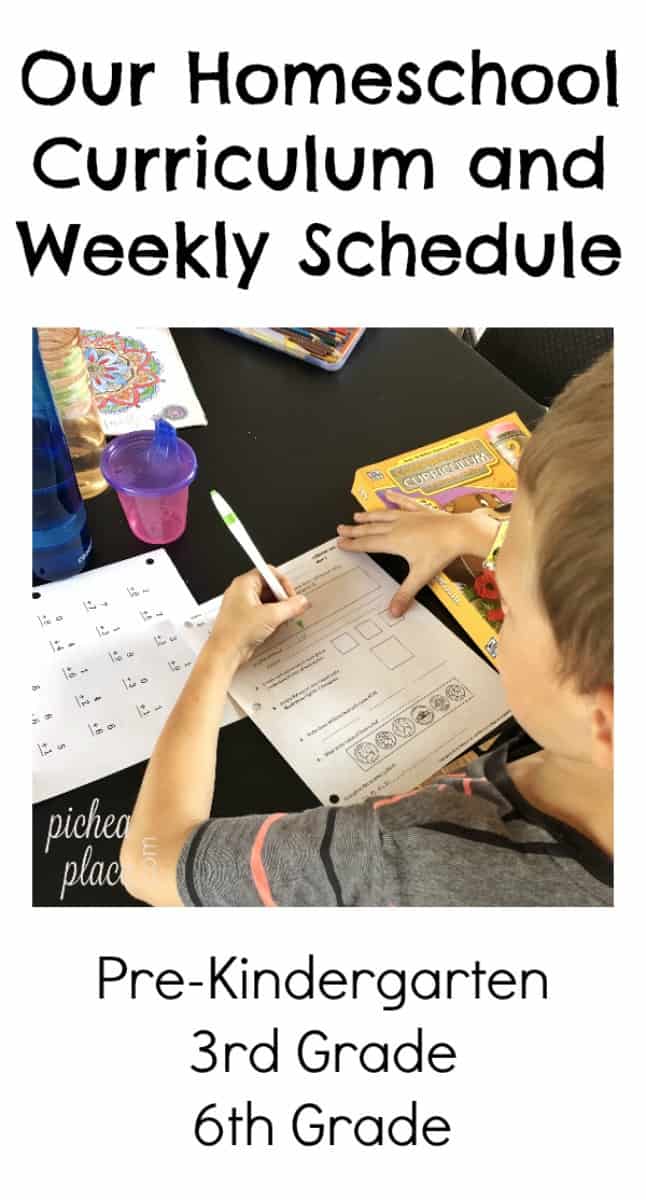 Our 2017-2018 Homeschool Curriculum
This year, three of our four kids are "doing school" at home. We have a 6th grader, a 3rd grader , and a PK4 preschooler… plus a toddler.
Preschool at Home: PK4 Homeschool Curriculum
My approach to preschool at home is to do lots of learning through play. Beyond play, we'll do some video-schooling (we love LeapFrog!), and he'll enjoy preschool apps on the Kindle Fire and/or iPad.
We also have a Comprehensive Curriculum of Basic Skills Pre K workbook. I'd purchased it last summer, and it was too advanced for him at the time. Even though we have the workbook available, we'll only use it as he needs structure during school time to keep from becoming a distraction to his siblings. We've been working through it the last few weeks, and he is doing great with it!
We are also using The Reading Lesson: Teach Your Child to Read in 20 Easy Lessons to start working on teaching him to read. We'll take it slow, doing most pages multiple times before moving on. It's what I used with his older brother, and their learning styles are very similar, so I think he'll do well with it.
Elementary at Home: 3rd Grade Homeschool Curriculum
Our third grader will be using Trail Guide to Learning: Paths of Exploration for his core this year. I love that TGL covers all the main subjects except for math.
When we used Trail Guide to Learning two years ago (for his older sister), I had a love/hate relationship with it. From a teaching perspective, I loved that the lesson planning was done for me. I also loved that the reading was done in real books (not a textbook) and that all the subjects worked together to build a knowledge database. My issues with the curriculum were less about the subject material and more with the flaws in publication (incorrect page numbers, wrong answers in the answer key, etc. – my inner editor wanted to take a red pen to the pages of the textbook).
For math, he'll be doing Saxon Math 3 (and probably starting Saxon Math 5/4 before the year is over). We switched to Saxon for math several years ago, and I love the ease and simplicity of it for the elementary grades. In fact, I don't even bother with the teachers' guides – I just buy the consumable workbooks (or textbooks as the grades progress) and teach new concepts as they appear.
Middle School at Home: 6th Grade Homeschool Curriculum
After two years in our local PS, our oldest child is no longer "advanced" for her grade level. While she thoroughly enjoyed her PS experience, she didn't gain a lot of "new" core knowledge as much of it was review. (Though apparently, she needed the review, as she seemed to have completely forgotten most of the math concepts she'd learned two years ago when taking math this past year.) Getting greater exposure to the subject matter has helped it to sink in deeper, and I think she has become a better student due to the experience.
This year, we are going to be using Notgrass History: From Adam to Us for her core. Again, the curriculum package includes pre-planned lessons and uses real books to tie together literature, history, and more. We'll also be adding Writers in Residence from Apologia as she loves to write and wants to do more than what is included in her core.
For math, she will be doing Saxon Math 7/6. This is the same place she left off when we put her in the local PS two years ago, as she finished Saxon 6/5 in 3rd grade. Hopefully having "learned" the math skills twice will help them to stick better this time!
Multi-Grade Homeschool Curriculum: Subjects/Topics
Spanish: All three kids will be learning Spanish together, using Spanish for Kids by Kids and the older two will also use DuoLingo,
Bible: We will be attending a weekly Community Bible Study class, studying the book of Acts. The older two kids will have daily study time to prepare for each week's class discussion and lesson.
Keyboarding/Computer: The oldest two will be using Keyboard Classroom.
Music: The oldest two will be taking piano lessons, as well, so daily practice will be expected.
Science: Our science will be Apologia's Exploring Creation with Human Anatomy and Physiology, using the textbook and notebooking journals and tailoring the assignments to each child's ability/grade level.
Physical Education: The oldest two will be participating in organized sports through the community. Our 3rd grader is playing tackle football this fall, and our 6th grader is hoping to do gymnastics this winter. We will probably do swim lessons for all four at some point this winter.
See what homeschool curriculum we've used in the past:
Our 2017-2018 Homeschool Schedule
Because I'm in leadership for the weekly Bible study class we'll be attending, we have two days a week when we will be required to be out of the house during our "normal" school time. Add to that a host of afternoon/evening extracurriculars throughout the school year, and I *think* our week will look something like this…
Monday, Thursday, & Friday
Start at 9am with Spanish, Science, and Bible. Move into math and/or core subjects. Mom is available as needed to work one-on-one in twenty minute increments. If we work diligently and stay on task, we should be done with school by lunch time (12:30).
Tuesday
Since we have commitments in the mornings, we won't start school until after lunch. Only the older two will have assignments on these days (hopefully the littles will nap). We'll skip Spanish and Science, and go right into core, Bible, and math.
Wednesday
We have Community Bible Study on Wednesday mornings and piano lessons in the early afternoon, making it difficult to get much else accomplished. I'm hoping we can at least do some math, and I'll have an audiobook for the drives to/from Bible study and piano lessons.
Friday
I had originally hoped that we'd be able to reserve Fridays for field trips and/or special projects relating to what one of the kids has been studying in their core. However, once I realized we were going to be gone most of the day on Wednesdays, Fridays became a lighter but still full school day.
We will try to get as much of our work done in the mornings to allow for "fun" afternoons. This will probably include trips to local museums, zoo, etc., baking in the kitchen, game-schooling, and other fun learning activities.
What grades are you homeschooling this year?
Back to School Blog Hop: Curriculum Week