Disclosure: This shop has been compensated by Collective Bias, Inc. and its advertiser. All opinions are mine alone. #ExperienceScrubDots #CollectiveBias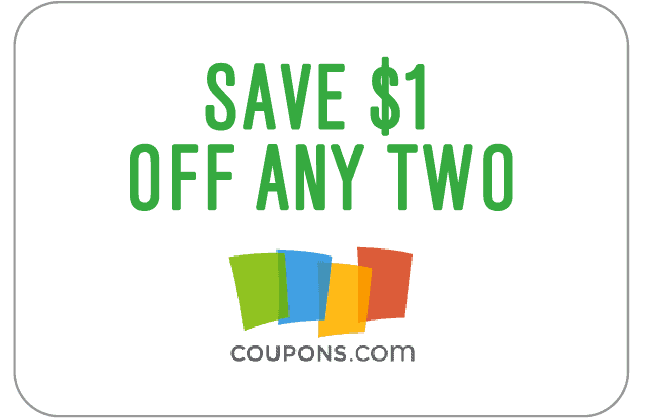 ---
Busy moms don't have time to spend making or cleaning up dinner during the week. Decrease the time spent in the kitchen and increase the time spent with your family (even if it's while you're playing chauffeur) with this easy weeknight dinner recipe for Skillet Macaroni and Cheese and Scotch-Brite® Scrub Dots products from Walmart.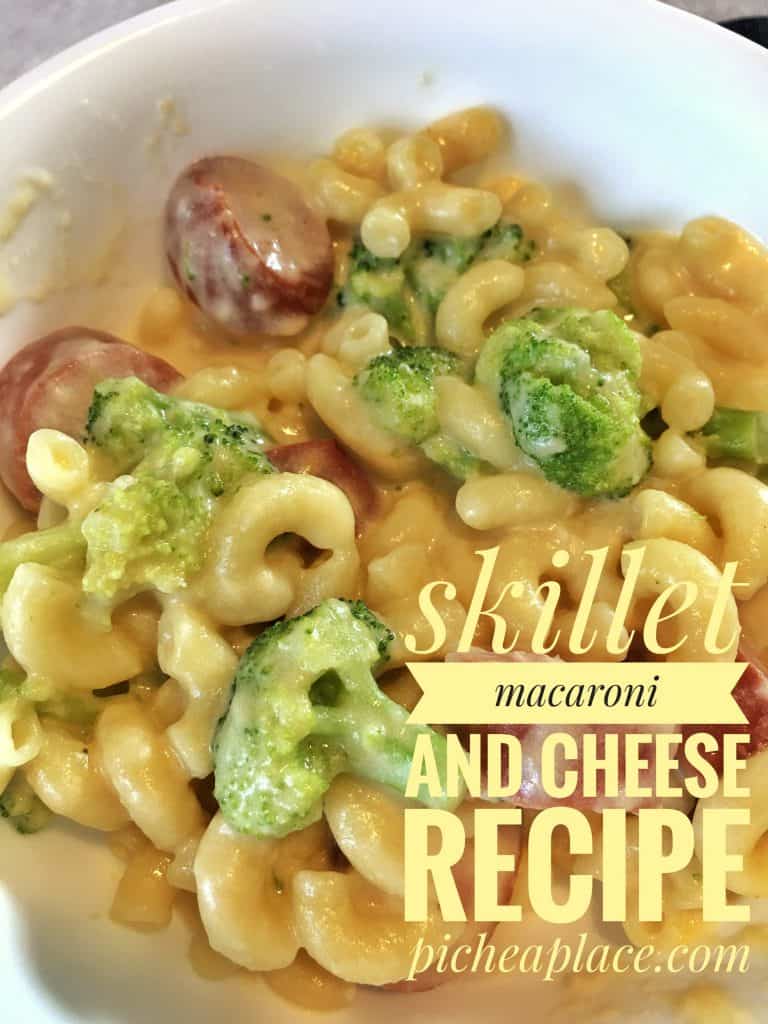 Thinking about dinner before it's dinner time is not my specialty. I generally think about dinner at dinner time. So I need quick and easy recipes that take twenty minutes or less to get on the table – from start to finish. My specialty is creating easy dinner recipes for busy families.
So my favorite baked macaroni and cheese recipe? It doesn't happen. It takes a good 15-20 minutes to prep and then another 45 minutes to bake. And I just don't have that kind of time on a busy weeknight.
A few years ago, I decided to experiment and see if I couldn't come up with a similar tasting macaroni and cheese recipe… but one that takes less than 20 minutes to make. The result? Amazing gooey cheesy-ness in a skillet… aka Skillet Macaroni and Cheese.
Quick and Easy Meal: Skillet Macaroni and Cheese Recipe
When I first developed this skillet macaroni and cheese recipe, we ate it a lot. Almost once a week. We enjoyed it that much. Currently, it's in our dinner rotation about once a month, and the cheers go up when the kids (and my husband) hear that it's "what's for dinner" on any given weeknight.
Ingredients:
2T flour
2T butter
1lb uncooked elbow macaroni noodles
3 cups whole milk
2 cups shredded mozzarella cheese
2 cups shredded cheddar cheese
1/4 cup grated Romano and Parmesan cheese (you can use just Parmesan)
optional – 4-6 smoked sausages
optional – 1 bag frozen broccoli florets
Instructions:
1. Cook the elbow macaroni noodles in a large pot according to package instructions.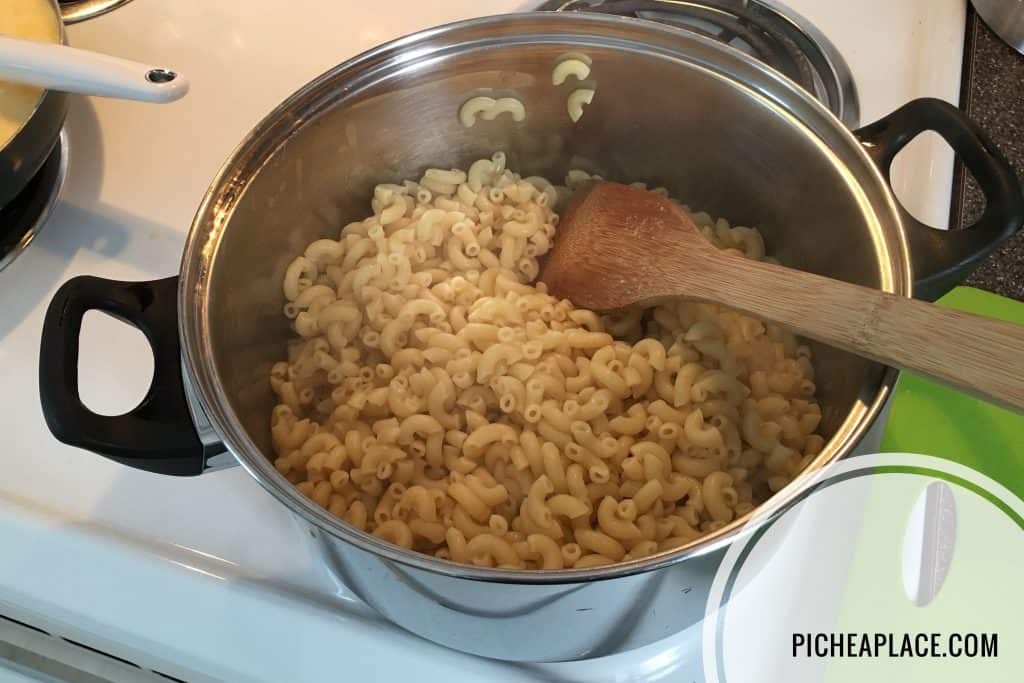 2. Melt the butter in a large skillet pan and stir in the flour to make a thickening agent for your sauce.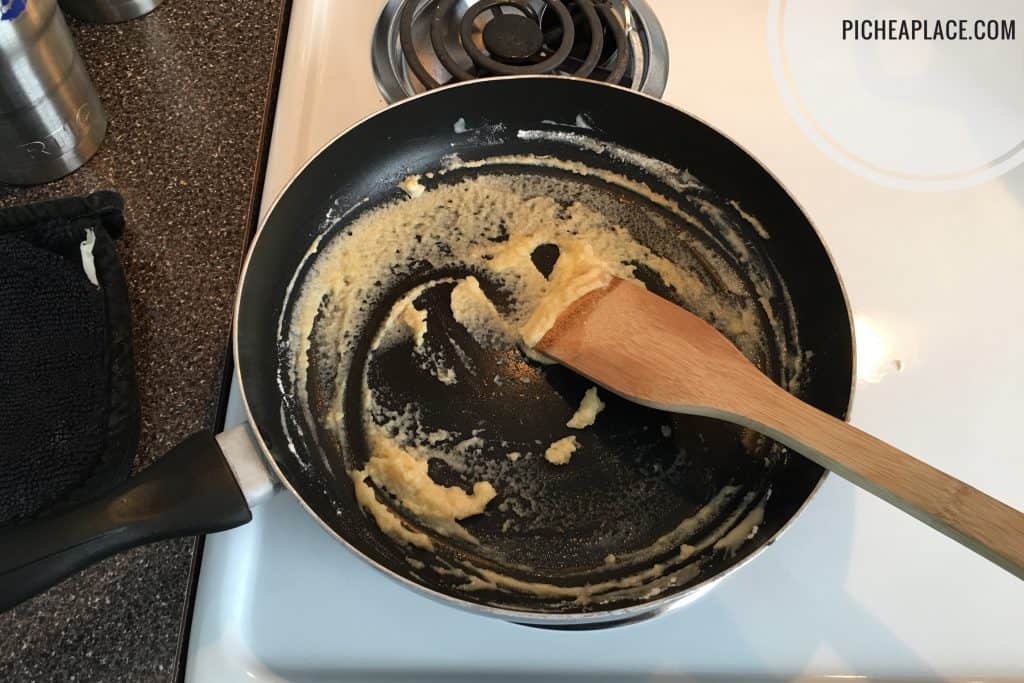 3. Slowly add the milk, keeping the heat low to medium to avoid scalding it.
4. As the milk heats up, add the cheeses and stir to melt them into the thickened milk mixture.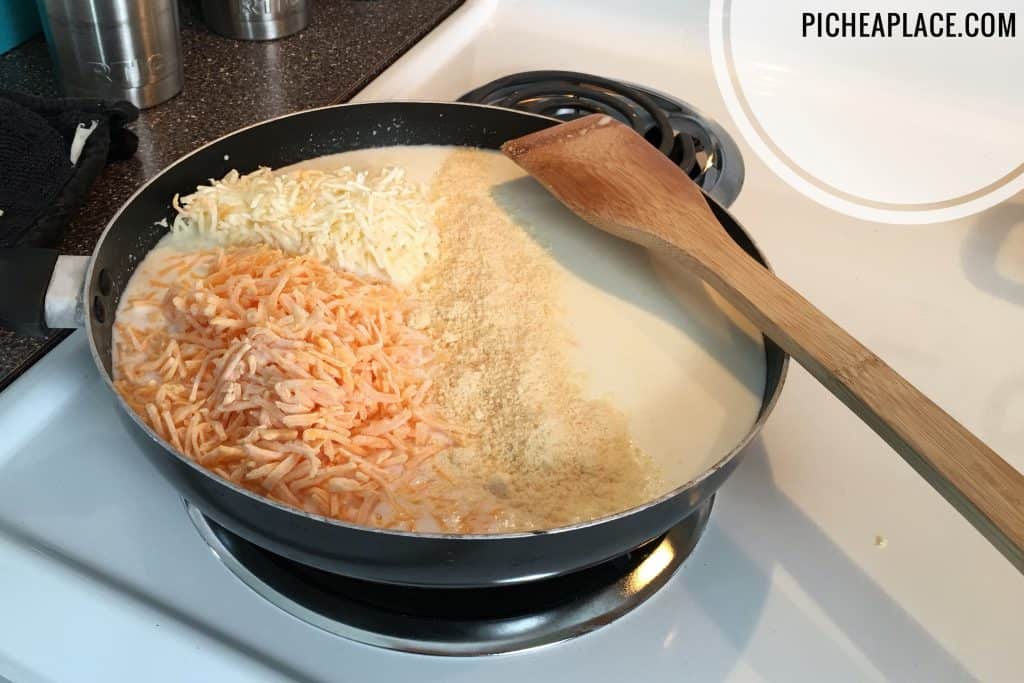 5. Slice your smoked sausages into bite-sized pieces and add to the sauce.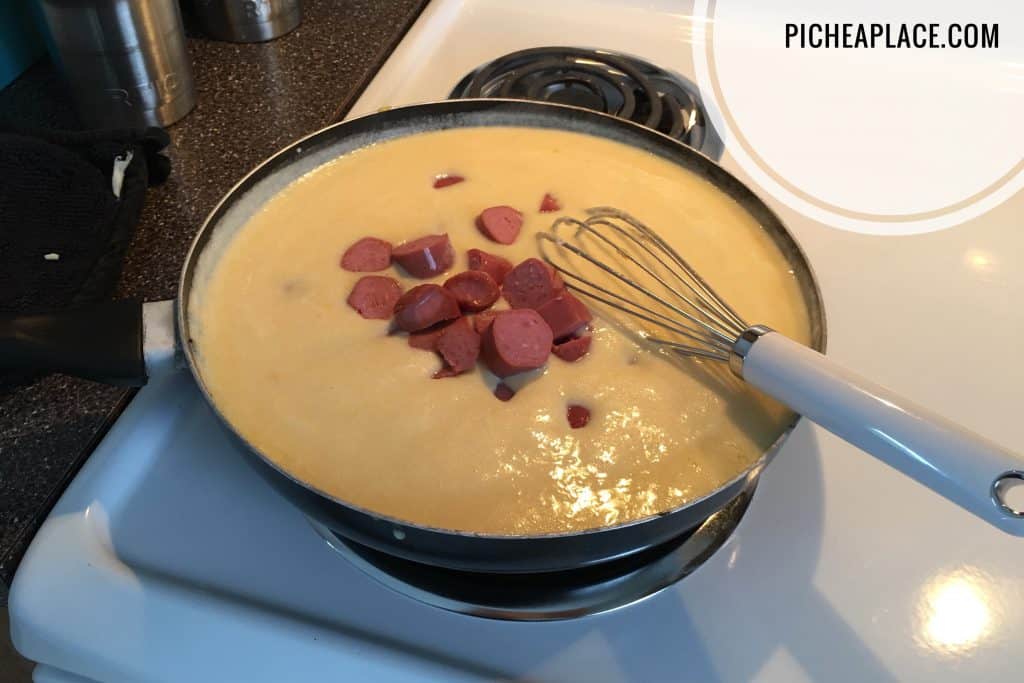 6. Add the broccoli to the sauce.
7. Simmer for 5 minutes.
Note: The longer the sauce simmers, the thicker it will be. You can always add a little bit more milk if the sauce is thicker than you'd like.
8. When the sauce has reached its desired thickness, combine with cooked macaroni noodles.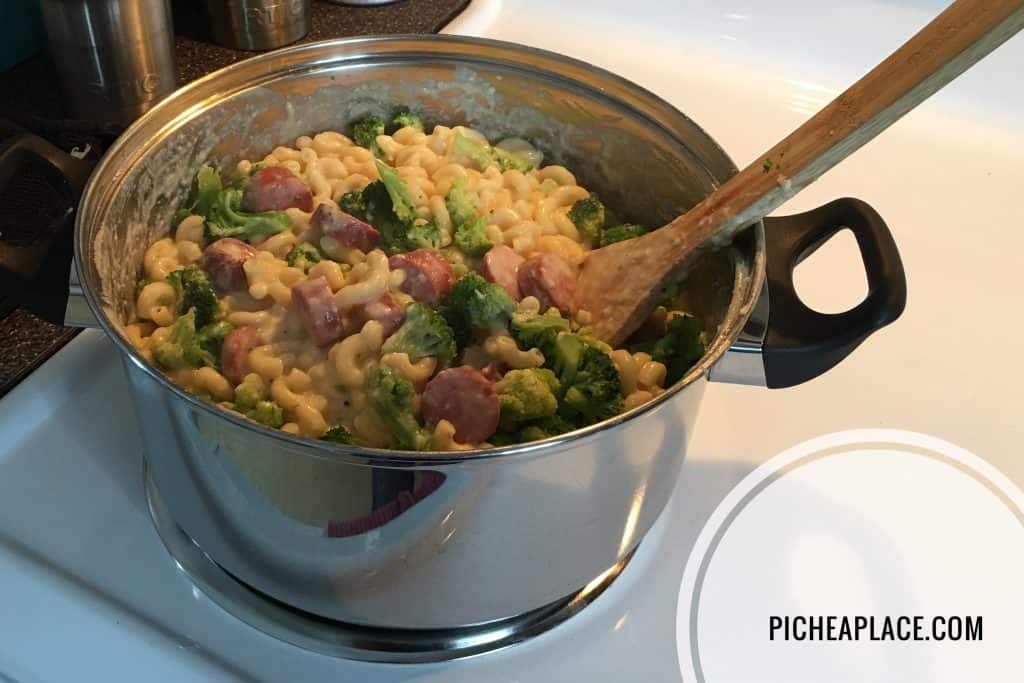 9. Serve and enjoy!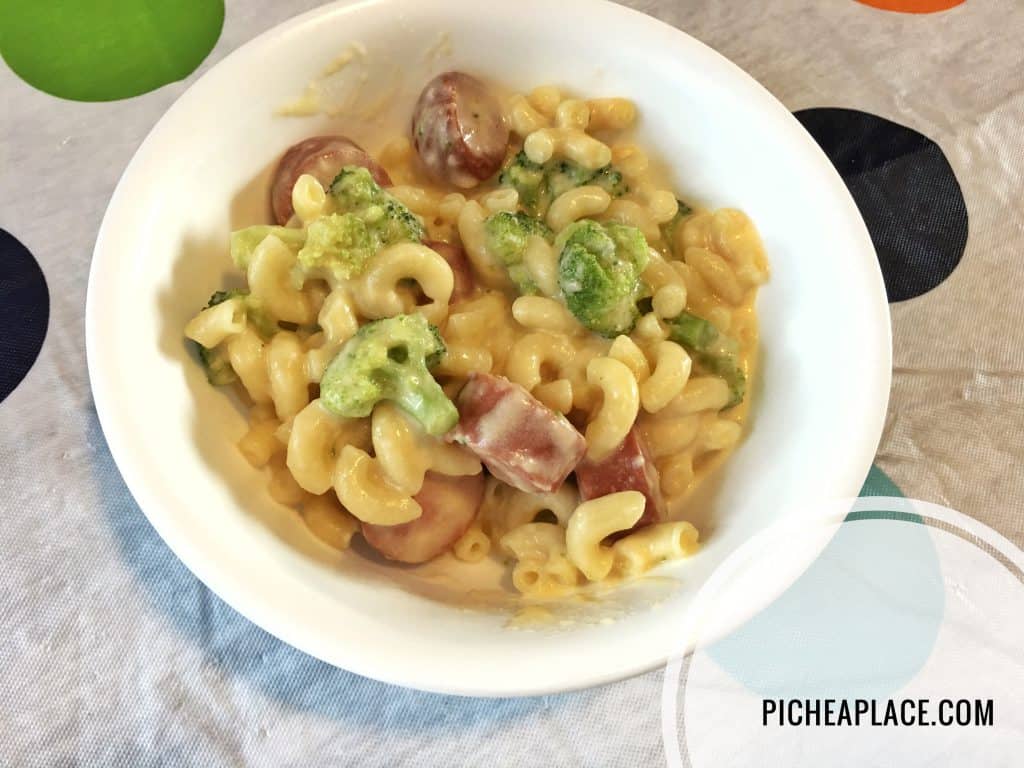 Quick and Easy Clean-up: Scotch-Brite® Scrub Dots
Now that I've got your mouth watering, I want to let you in on a little secret. Cleaning up this gooey, cheesy mess doesn't have to take a lot of time… just grab some Scotch-Brite® Scrub Dots products at Walmart [click here to save $1.00 off any two Scrub Dots items].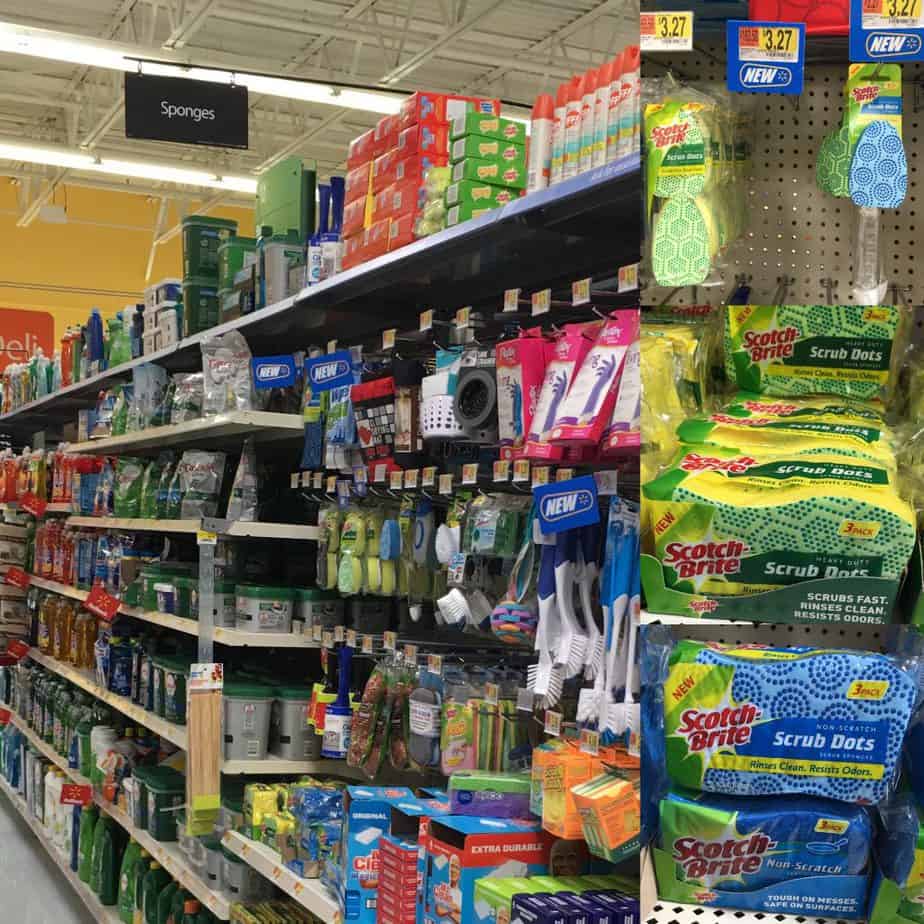 I found the sponges and dishwands in the cleaning aisle.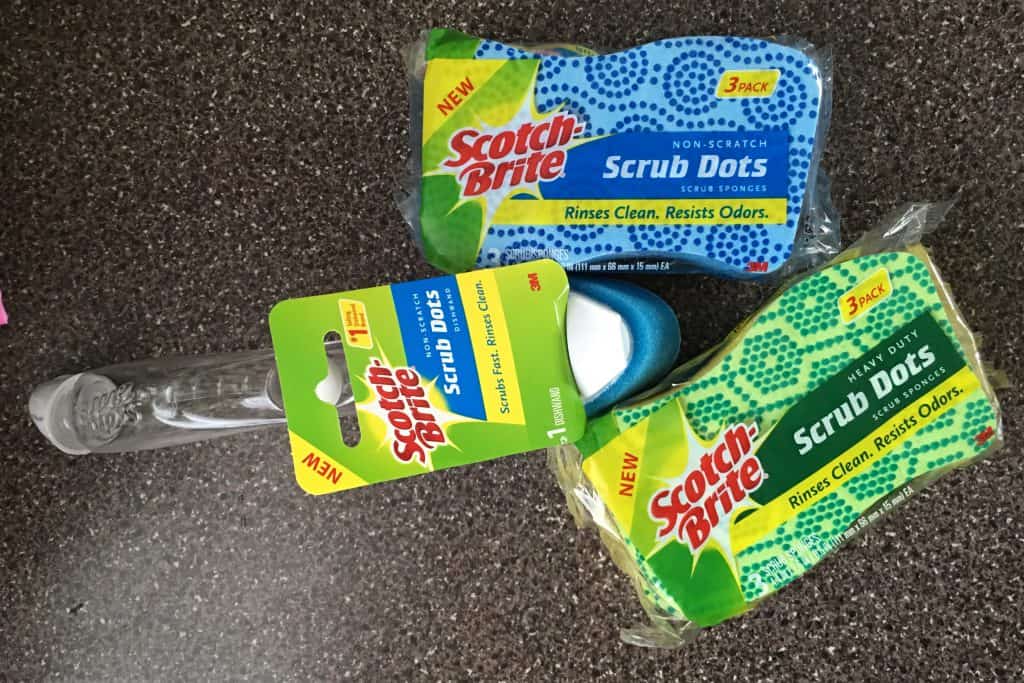 The green Scotch-Brite® Heavy Duty Scrub Dots Sponge eliminates the "baked-on" mess from my skillet with ease. (Use Scotch-Brite® Non-Scratch Scrub Dots Sponges for non-stick pans to safely clean without scratching.) The unique Scrubbing Dots technology allows the sponges to rinse clean, helping me to clean up my kitchen messes faster!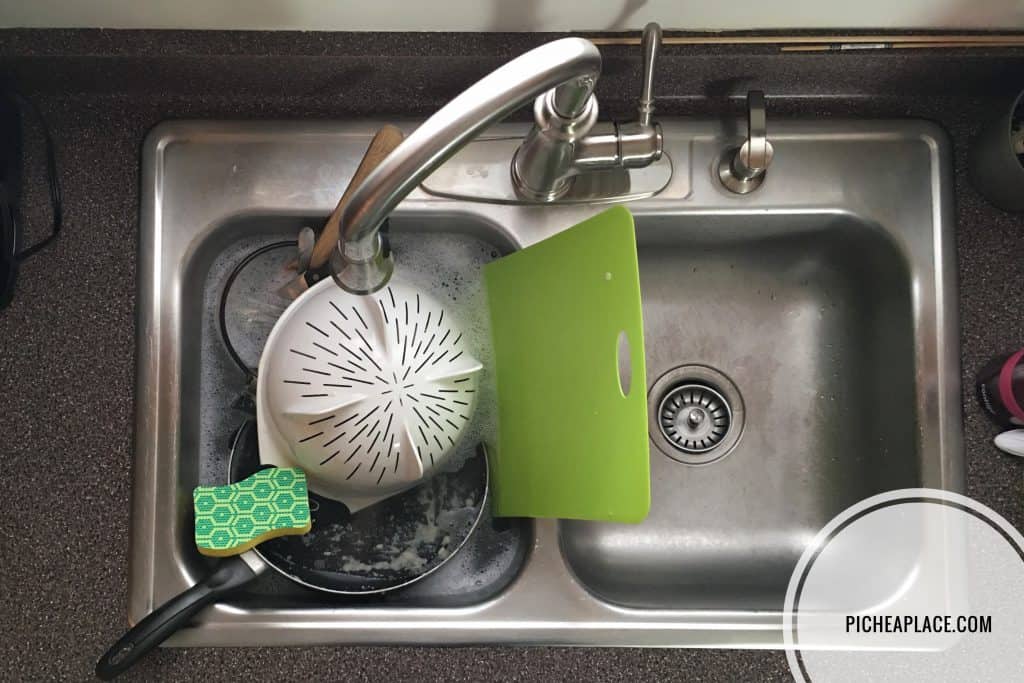 Visit the Scrub Dots website to learn more and get a money-saving coupon!