As a WAHM/SAHM (work-at-home mom/stay-at-home mom), it's easy to default to pajamas or sweats as my daily "uniform," but that tends to set a tone of "laziness" around here, so I've been keeping my eyes on Pinterest, searching for casual SAHM outfit ideas for fall, and then shopping my closet, adding a few accessories here and there from the awesome deals I find on Cents of Style.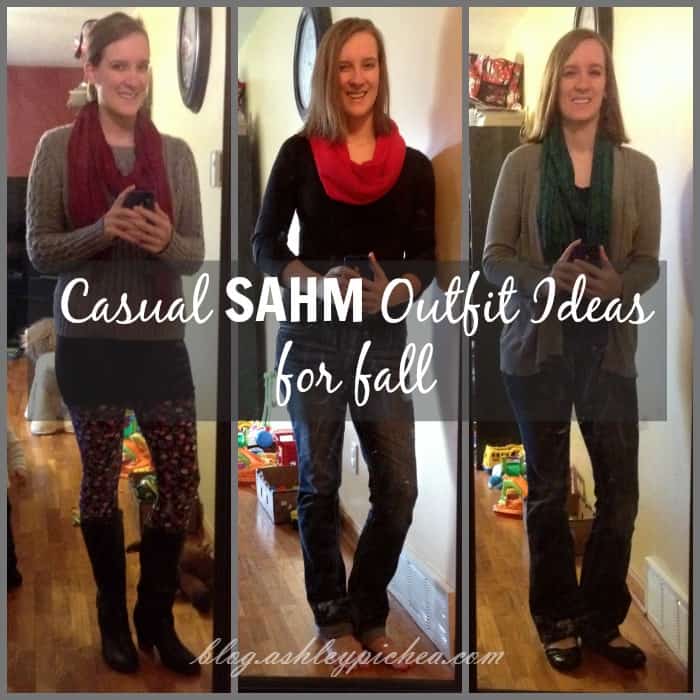 Last Tuesday was "warm" (mid 60s), so I opted for a t-shirt and flip flops (it was October in Michigan after all) to take Jenny to piano lessons.
On Wednesday I woke up with the urge to be "trendy," and since I had an "early morning" (i.e. 9:30am) appointment, I had a reason to get dressed before 4pm (my normal "shower and get dressed" time on Wednesday before the rush to get to church on time). The outfit served me well as I wrangled three kids at the car repair shop and SAMS Club before heading home to do school with them.
Thursday was a low-key day around the house, so I opted for comfort versus fashion and tossed on my favorite sweatshirt.
Friday we participated in our church's Trunk or Treat event, and since we were doing a Christmas-themed "trunk," I accessorized my black sweater with a red-fleece infinity scarf that my mom gave me last year for Christmas. It definitely helped me get into "the Christmas spirit."
On Saturday, the kids and I stayed home, and I worked most of the day from my recliner while the kids played.
Sunday I actually wore two different outfits. I dressed up to go to church in the morning since I was singing in the praise team and choir, but then I opted for jeans in the afternoon for our three hour long choir rehearsal (we're getting ready for our Christmas musical).
On Monday, I was hoping to go out with my family, but that didn't happen – we ended up just hanging out around the house and playing games together.
Yesterday the kids and I left the house around 9:45am, headed to piano lessons, the library, our voting precinct, and the grocery store before coming home to clean, eat lunch, and do school.
—
After a few weeks of experimenting with this fall wardrobe, I think I'd like to pick up a couple more cardigans, but otherwise I'm liking the pieces I have available in my closet. The cardigans would make it easier to transition some of the "warmer weather" pieces into "cold weather" pieces.
—
There are several "what I wore" linkups around the blogosphere each week, and I'm joining in at What I Wore Wednesday for accountability with a weekly post of what I wore, sharing some casual SAHM outfits for fall.