Even the best moms can lose their tempers. And when a happy mom transitions into an angry, frustrated mom, she needs to have an arsenal of resources to help her reduce her stress, balance her emotions, and get back to being the best mom she can be. These essential oils for the angry & frustrated mom can help uplift the mind, chasing away negative emotions.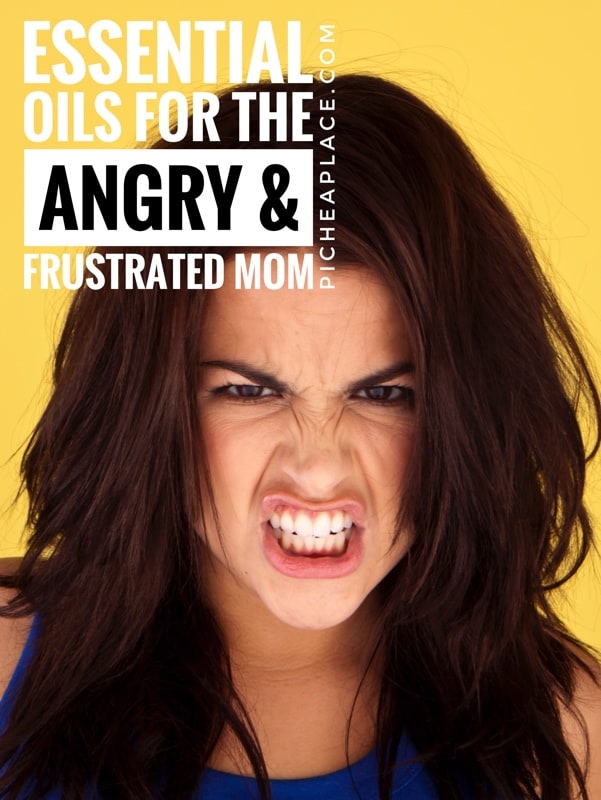 I Was an Angry & Frustrated Mom
This year did NOT get off to a good start. By 10am on New Year's Day, I was hiding in my boys' bedroom closet in the basement after having lost my temper.
I was an angry & frustrated mom, and I needed to give myself as much space as possible before I did something I'd really regret. (Because losing my temper and screaming at my entire family was already bad enough.)
As I sat on the floor of the closet, hiding from my family, I spent a lot of time just praying – crying out to God for forgiveness and a sense of calm. I prayed these Scripture-Based Prayers for an Angry Spouse over myself.
Embarrassed by my outburst, I was also at a loss as to how to combat the angry & frustrated mom I had become. This was NOT how I wanted to start out a new year! If only I had been sitting on the floor of my bedroom closet instead of hiding in the basement, I would have had access to my essential oil toolbox.
Essentials oils are amazing mood lifters, especially when I'm feeling angry & frustrated.
---
Note: I am not a medical professional. The information presented here is merely for educational purposes and not intended to replace medical advice. It is your responsibility to do your own research, consult with your doctor, and make safe decisions for yourself and your family.
---
Essential Oils for the Angry & Frustrated Mom
If you're an angry & frustrated mom, you can uplift your mood with essential oils. Whether you struggle on a daily basis or only occasionally, there's an oil for that. Here are some essential oils that you can use to chase the negative emotions away.
Traquility is a combination of Orange, Tangerine, Patchouli, Lime, Blue Tansy, Ylang Ylang, Lavender, and Citronella in a base of Jojoba Oil. I buy it in a pre-diluted roll-on for easy application to help calm and soothe mind and body.
At Peace has bright, fresh aroma to uplift the mood and help ease feelings of fear or frustration. It includes a combination of Litsea Cubeba, Lime, Mandarin, Grapefruit, Ylang Ylang, Sandalwood, and Tangerine oils, combined in a base of Fractionated Coconut Oil. Add it to a DIY room spray or bath salts.
You may have noticed that Ylang Ylang is a common essential oil in many of the mood uplifting blends. According to the Reference Guide for Essential Oils, Ylang Ylang essential oil can be diffused or applied to the feet to help dispel anger. It can also be used to treat anxiety, lowering blood pressure, releasing frustration, and more.
As I was researching essential oils for the angry & frustrated mom, I came across "Calm and Collected": the DIY Essential Oil Blend for Kids with Autism. While it's not specifically geared towards moms struggling with anger, the article shares how a blend of Frankincense and Blood Orange essential oils helped a young child go from meltdown mode to calm in a matter of minutes.
Other Essential Oils for the Angry & Frustrated Mom
Use these essential oils on their own or in a blend to chase away negative emotions while calming your mind.
Each person's body chemistry differs slightly from another. Not all individuals will respond to the same essential oils (or blends) in the same manner. Pick one essential oil or blend to try as you seek to move away from being an angry & frustrated mom.
Other Essential Oil Resources I Recommend