With the kids headed into the public school system in the next few weeks, one of the aspects of homeschooling that we enjoyed will be missing – a daily emphasis on and application of Scripture in their lives. So after doing a bit of brainstorming with Jenny and David, we've come up with a new morning routine that will include family worship and Bible time before they head out the door in the mornings.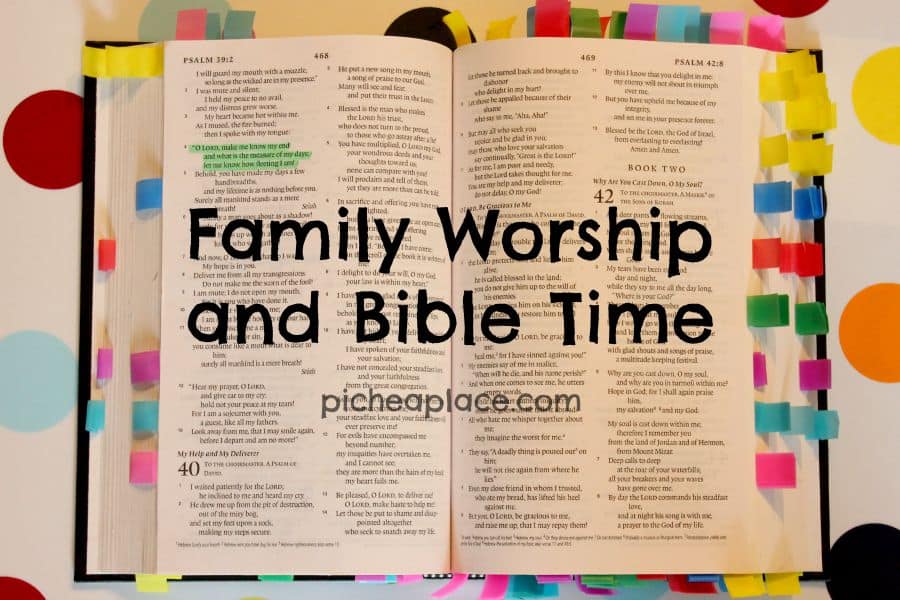 Before School
One of the reasons that I want to do family worship and Bible time before the kids head out the door to school is to help them start their day with a focus on the things of God. By reminding them who they are in Christ and helping them to fill their minds with Scripture, they will better equipped to make wise choices and live according to the truths they've learned from the Bible.
Just as my day seems less daunting if I've spent time in the Word in the morning, so it is for my kids. By starting their day in the Word, they are ready to face whatever the day might hold.
Keep It Simple
Because we're not morning people around here, I know that if we make our morning family worship and Bible time too involved or complicated, we will quickly abandon it. Thus the need to keep it simple.
We plan to incorporate our family worship and Bible time with breakfast – 20 minutes or less – just before heading out the door to the bus stop. We'll include prayer, reading and briefly discussing a Bible passage, and perhaps a worship song or Scripture memory song to stick in their heads for the bus ride to school.
Resources for Family Worship and Bible Time
In order to keep things from getting stale, we'll circulate through several of our favorite family worship and Bible time resources:
How do you do family worship and Bible time?
Do you have a set time each day/week to gather a family for worship and Bible time? What are some of your favorite resources to use?