Avoiding chemical scents is something I work toward. Especially when it comes to my laundry room. And as such, my laundry has been "scent free" for several years. The trouble with that? I like my laundry to "smell clean" rather than be void of scent altogether. The solution? Using essential oils. Here are some of my favorite essential oil laundry room hacks…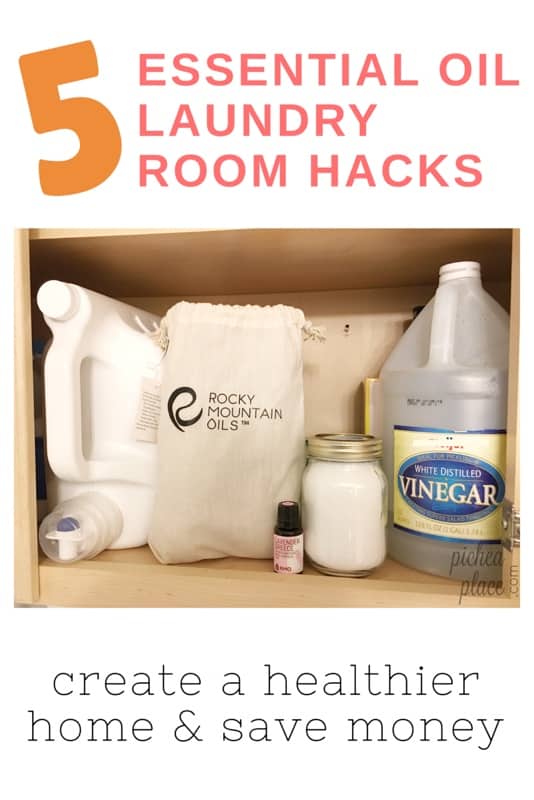 Five Easy Essential Oil Laundry Room Hacks
Essential Oil Laundry Room Hacks: #1
Use a scent-free detergent. You don't want your essential oils to have to compete with another scent.
We use a scent-free laundry detergent that is safe enough for the littlest members of our family but gets even the messiest clothes clean the first time.
Essential Oil Laundry Room Hacks #2:
Don't use fabric softener – liquid or dryer sheets. Not only is fabric softener bad for some of your clothes, but the scents in most commercial ones are too strong, in my opinion.
For the loads I want to be a bit "softer" (like towels and bedding), I add white vinegar to the rinse cycle.
Essential Oil Laundry Room Hacks: #3
Use a laundry scent booster made with essential oils.
Get the 3-ingredient recipe here –> Laundry Scent Booster with Essential Oils Recipe.
I like to use a combination of lavender essential oil and a citrus blend essential oil in my laundry scent booster. It gives my clothes a fresh, natural scent.
Essential Oil Laundry Room Hacks: #4
Use wool dryer balls with essential oils in the dryer. Not only will you cut down on drying time but you can avoid using fabric softener dryer sheets. Wool dryer balls also have been reported to cut down on static cling – a big plus in my book!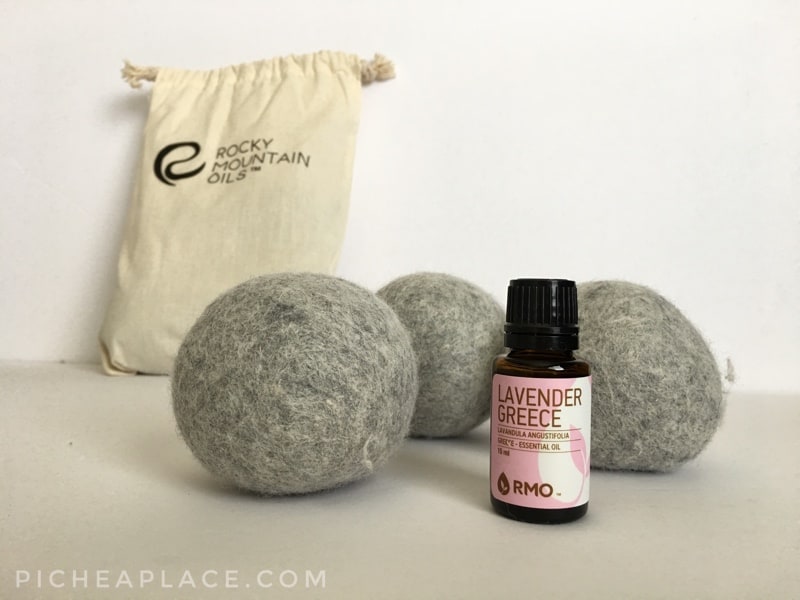 I keep a bottle of lavender essential oil in my laundry room. Every couple of dryer loads, I add a couple drops of essential oil to my dryer balls.
My laundry comes out of the dryer smelling fresh and clean. I especially love the scent on my bedding as the lavender helps me to relax while trying to fall asleep at night.
Related Content –> Our Favorite Essential Oils for Sleep
Essential Oil Laundry Room Hacks: #5
If you need a wrinkle releaser or fabric freshener, use a spray bottle of DIY Essential Oil Air Freshener Spray.
I like to use lavender and citrus blend essential oils in mine. (Can you tell they're my favorite laundry room scents?!?)
Using Essential Oils in the Laundry Room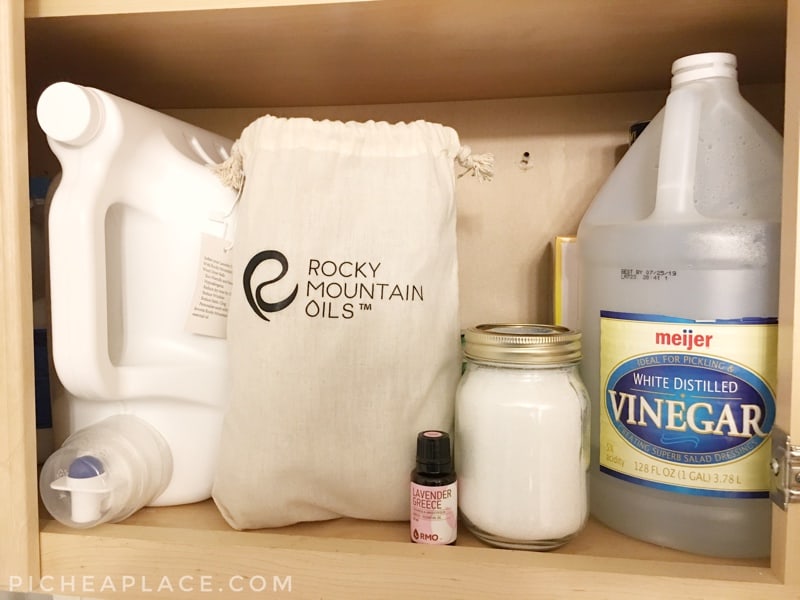 If you're just getting started with essential oils, using them in the laundry room is a great way to get your feet wet. These five easy essential oil laundry room hacks can help you create a healthier home while saving you money!