I like dinners that are simple in terms of ingredients and instructions. Dump-and-cook slow cooker meals are some of my favorite meals to make and eat. This slow cooker chicken and biscuits with green beans recipe is so simple that my six year old can make it in under two minutes. And it's so yummy that the leftover don't last long in the fridge – it's one of our favorite crockpot chicken recipes!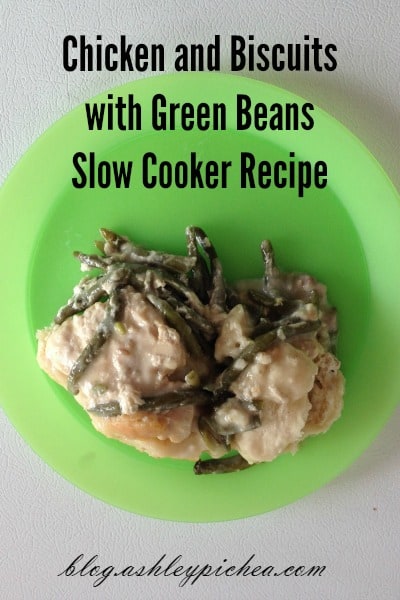 I tend to buy chicken by the bag – I usually pick up a bag or two of boneless skinless frozen chicken (breasts or tenders) when I'm at Aldi or Sams Club and it lasts me several meals.
We have several favorite slow cooker chicken recipes, but I'm always experimenting with new slow cooker chicken recipes to serve my family.
Slow Cooker Chicken and Biscuits with Green Beans Recipe
This slow cooker chicken and biscuits recipe reminds me of chicken and dumplings – it's creamy and delicious – but it takes a lot less effort and time in the kitchen!
Ingredients:
3-4 chicken breasts or 5-6 chicken tenders (enough to serve your family – we usually cook enough for 6 servings)
seasoning (your preference – I use seasoned salt)
one bag of frozen green beans
8-10 frozen biscuits (enough to cover the top of your crockpot)
1 (8oz) can condensed cream of mushroom soup
This slow cooker chicken recipe is so easy that my six-year-old son can make it!
Instructions:
Spray your slow cooker with a non-stick spray [I use vegetable oil in a Pampered Chef spray bottle].
Using a spatula, spread the condensed cream of mushroom soup in the bottom of the slow cooker.

Dump green beans on top of the soup – use a spatula to spread out if needed.

Place chicken in a single layer on the green beans and sprinkle with your seasoning [I use seasoned salt].

Cook on high for 5-6 hours.

With one hour left before serving, place the biscuits side-by-side on top of the chicken and green beans in a single layer.

Cook on low for one hour.

Serves 4-6 depending on the amount of chicken cooked.
—
Other Slow Cooker Chicken Recipes You May Enjoy: