As I purpose to make marriages matter this year, I'm finding myself in a bit of a dilemma: I have three young kids at home and we're living on a limited budget. Tip #1 isn't going to be easy to accomplish… unless I can find some great frugal winter date ideas.
Related: Perfect Date Ideas for Busy Parents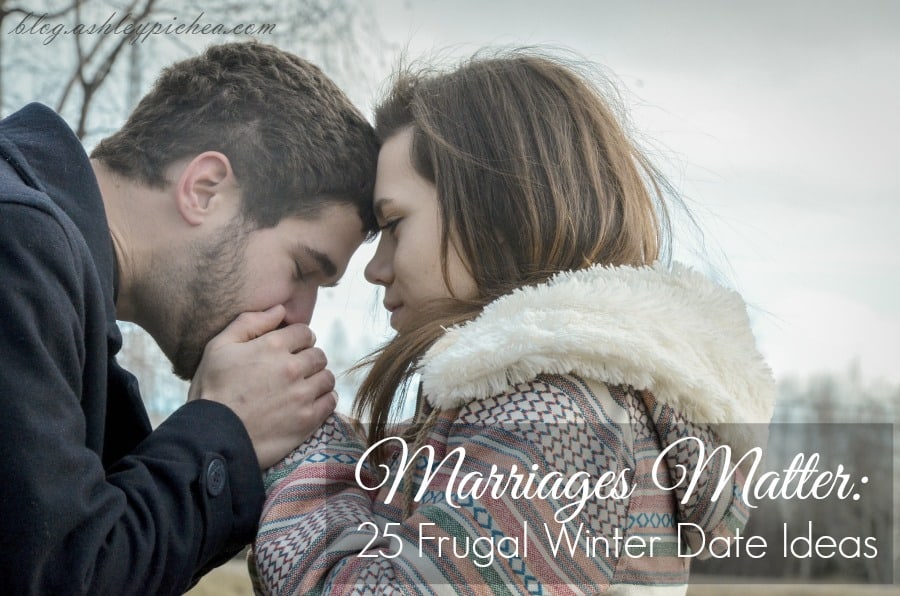 Realizing I probably wasn't the only one with a limited budget for babysitting and date nights, I decided to do a quick search on Swagbucks to see if I could collate some frugal winter date ideas for busy parents. My search was successful, and based on the number of results I came across, I'm realizing that frugal date ideas are a big topic for couples everywhere!
[Not only can I save money with the great frugal date ideas I found, but by searching on Swagbucks I earned points toward gift cards or cash that I can use toward the cost of some of these ideas!]
Here are just a few of the frugal winter date ideas I found:
Cook a meal together [share a favorite recipe from your childhood]
Play a card or board game together [some of our favorites include: Scrabble, Battleship, Uno Attack, Phase 10, Dutch Blitz, Yahtzee, and Euchre]
Go out to breakfast [breakfast tends to be a less expensive meals than dinner]
Go sledding
Visit the library [check out a few books or even a DVD]
Go ice skating
Go bowling
Play video games from your childhood [we just got a Sega Genesis preloaded with 80+ games]
Go out for coffee
Watch a TV series via Amazon Instant Video [we've watched a lot of TV series this way]
Go to the arcade [buy $10 in tokens and see who can rack up the most tickets – use them to buy your spouse something special]
Watch a DVD together [we enjoy picking up cheap copies of older romantic comedies like Crazy Stupid Love and He's Just Not That Into You as well as newer action-packed dramas such as The Hunger Games or Divergent]
Tackle a DIY project around the house [this only works well if you both enjoy doing household projects]

Bake cookies [or another favorite sweet treat] together
Escape to an all-inclusive couples' weekend in a winter wonderland
Visit a local museum [even better if you can find a coupon or get in on a free admission day]
Go out for half-priced appetizers [or use a coupon to eat out for less]
Volunteer together at a local shelter or charity

Sit in the mall food court and people watch [make up stories about various individuals and share them with your spouse]
Go to the thrift store and find a unique gift for the other person for $5 or less
Go on a scavenger hunt at Target [make a list of random categories and find objects that fit each one]
Give each other massages [we have several essential oils for massage that make a great date night massage kit]
Spend an evening talking on the couch [put the kids to bed early and just enjoy touching base with one another]
What a great round-up of frugal date night ideas – perfect for staying in or getting a sitter and enjoying an inexpensive night out with my husband.
Get these steamy hot sticky notes and more: Printable Sticky Notes

For more frugal date ideas, check out these posts:
What are some of your favorite frugal date night ideas?
Follow my #MarriagesMatter board on Pinterest.