With Spring Break being just a week away, I've started trying to think of projects that my kids can do to keep themselves entertained while they're home from school for a week. I know they're looking forward to riding their bikes, playing at the neighborhood playground, and just lounging around, but with a full week of no school, they're bound to be "bored" at some point, so I want to be sure to have my arsenal prepped when the inevitable "what can I do?" questions come. Here are a few boredom busting activities for kids to do on Spring Break…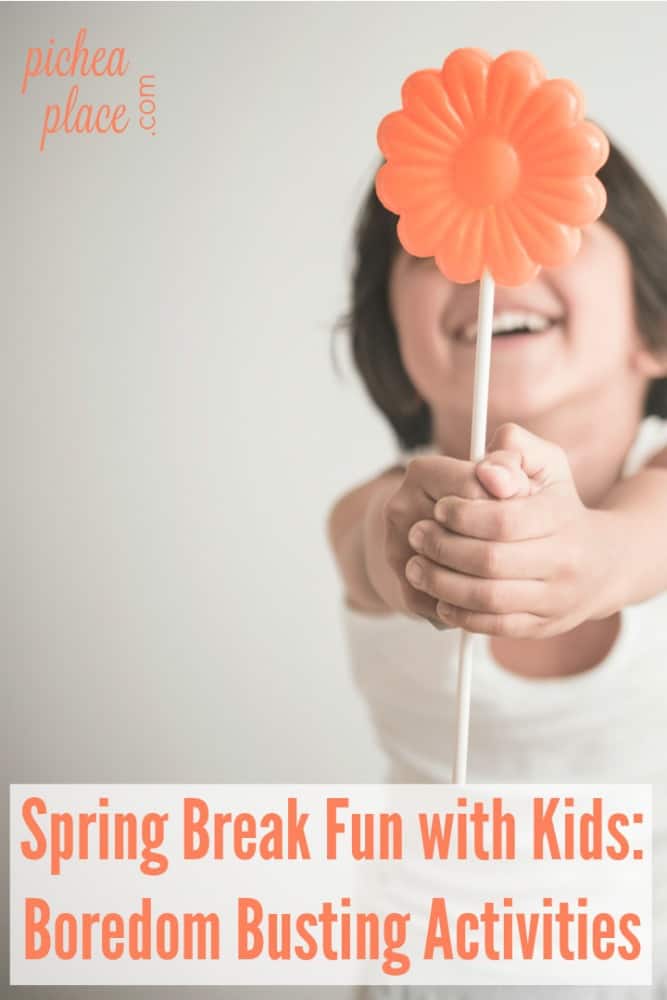 My kids love getting creative with Perler Beads, and Spring Break will be the perfect time for them to design some fun spring Perler bead patterns!
Making spray paint t-shirts would be a fun activity to do on a warmer afternoon when we can be outside. The kids would love to "decorate" their own t-shirts with spray paint bottles, and they'd be so proud to wear them to school after Spring Break!
Summer Bucket List Idea: T-Shirt Painting with Spray Bottles
We recently switched the kids' monthly subscription kits from Little Passports to Kiwi Crates. These are perfect to pull out for an afternoon of boredom-busting as they get to explore the world of science and exercise their artistic creativity!

Making cereal necklaces is such an easy activity to hand to the kids for a few minutes of fun – and all four of them can do it together!
I've recently noticed that our playdough supply is running dry (pun not intended). Jenny & David would love making some homemade playdough in the kitchen, and all three big kids will have a great time playing with it together!
Book Crafts
We love doing book crafts, and I'm looking forward to doing several with the kids over Spring Break. Reading a book together and making a craft based on its theme is so much fun!
Here are two book crafts we did together a few years ago:
What fun activities do you have planned for your kids over Spring Break? Are you headed on a trip or staying local?
Other Spring Break Ideas: