When you're a busy family, finding time to spend together can be a challenge if you're not intentional about scheduling it. One of the ways we like to spend time together is to take advantage of family-friendly attractions and destinations that are within a couple hours of our home. These fun summer day trips for families allow us to enjoy time together without the expense of an overnight stay.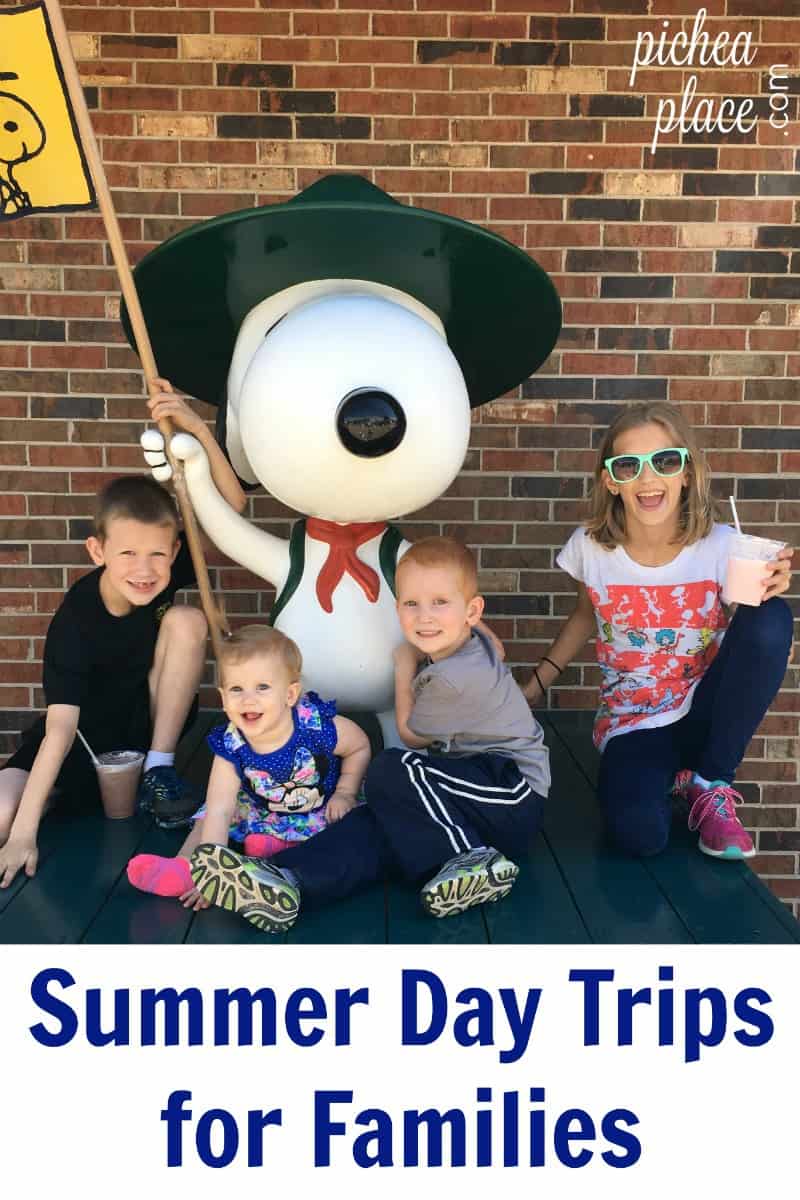 The best part about summer day trips for families (also frequently called summer family staycations) is that you can tailor them to match your family's interest. If you love sports, you can take a summer day trip to a semi-local baseball stadium and cheer on your favorite team. If your family loves to be outdoor in nature, a state park or nature center would be the perfect family-friendly destination for a summer day trip.
Summer Day Trips for Families
No matter where you live, you probably have the following family-friendly attractions available to you:
zoo
ballpark
beach/pool
nature center
children's museum
biking/hiking trails
state park
amusement park
water park
county fair
local petting zoo/farm
berry picking
historical sites
Summer Day Trips for Families in Michigan
Living in south-central Michigan, there are several specific family-friendly destinations that we enjoy visiting during the summer.
Our Favorite Local Zoos:
Our Favorite Local Amusement Parks:
Other Favorite Local Family-Friendly Attractions:
Michigan's Adventure: A Summer Day Trip for Families in Michigan
Thanks to Michigan's Adventure for sponsoring this summer day trips for families post via Cedar Fair's partnership with Blog Meets Brand. We did receive free park admission and monetary compensation for including them in this list, however, we'd have included them anyway!
About once a year we take a trip to Michigan's Adventure in Muskegon, MI. It's a mini-vacation that we as parents look forward to almost as much as our kids do (maybe even more)!
As the largest amusement park and water park in Michigan, Michigan's Adventure knows that from the moment you enter, the enchantment begins and the fun never ends.
When you first walk into the park, there is a height chart where you can determine how tall each kid is and which rides they're able to ride. I always love to take a photo to compare to previous years – look how much the kids have grown!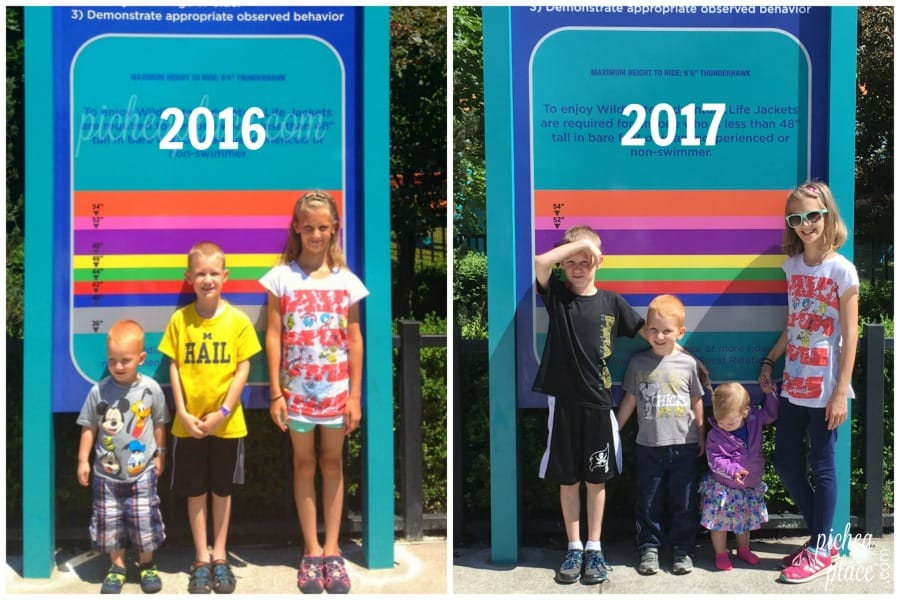 Since they'd been traveling in the car for several hours, the kids were eager to stretch their legs and start riding the rides!
After a few kiddie rides and a spin on the Ferris Wheel, we headed to Funland Farm to visit the petting zoo. Even our toddler loved getting up close and personal with the animals.
The boys loved looking at the park map, determining where we were, and deciding what rides to go on next. They spent a lot of time studying the map while their big sister rode Shivering Timbers (a wooden rollercoaster) with Daddy.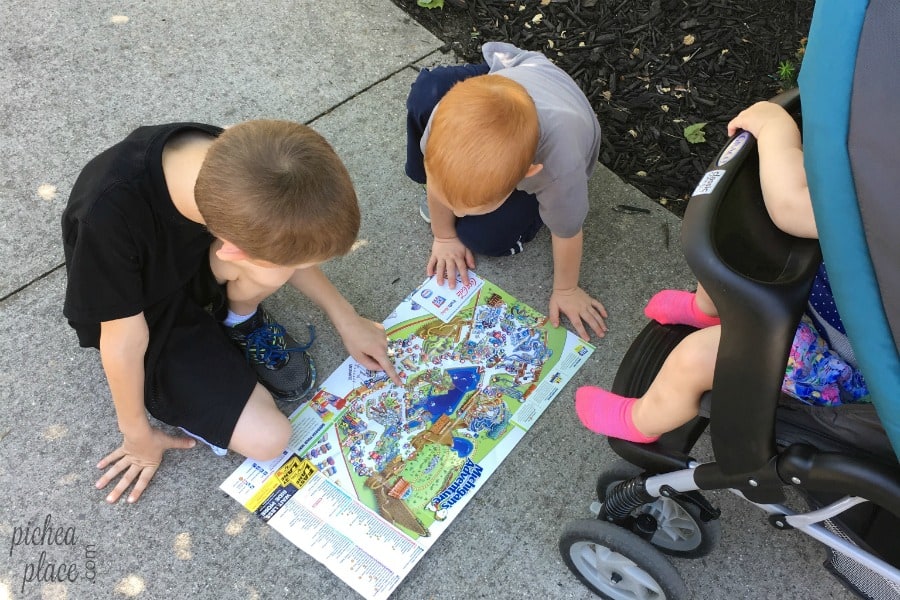 This year was the first time we decided to check out the mini-golf course at Michigan's Adventure. It was fun to enjoy a round of mini-golf together with the roller coasters in the background!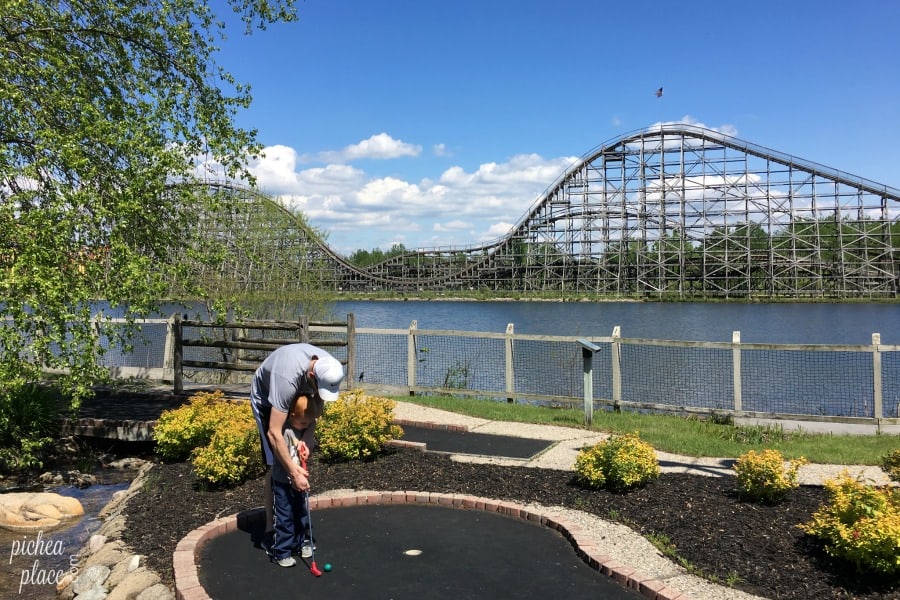 In the past when we've visited Michigan's Adventure, we've been able to spend a couple of hours in the amusement park and a couple of hours in WildWater Adventure water park. During our most recent trip, however, we didn't make it to the water park. Thankfully, it's only a couple hours away, so we can visit again later this summer and do a "water park only" trip, making sure to check out the newly revamped Half Pint Paradise!