After having been in school all year, my older kids are now used to having a daily routine. I wanted to use that to my advantage this summer, avoiding the temptation to let them run wild and free (and thus create constant chaos and a crabby mommy) all summer long. So this morning, we sat down and had a "family meeting" and talked about what our summer schedule will look like – both our weekly routine and our daily routine. Our summer schedule is creating structure to avoid chaos!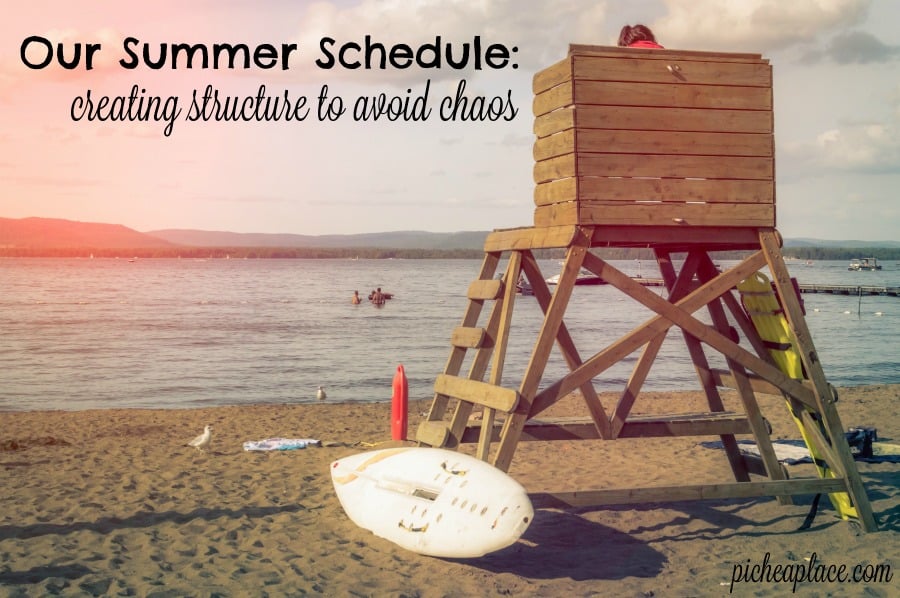 Our Summer Schedule: Weekly Routine
While no two weeks in our summer will look alike, due to "special" events we have scheduled throughout the summer, I wanted to establish a "what to expect on ___" weekly schedule for when we don't have special events scheduled. Our weekly schedule looks like this:
I purposely have scheduled our weeks with at least one "white space" day in order to give us all time to recoup from any busyness during the week, as well as time for me to get any last minute work done before unplugging for the weekend.
Also, with the exception of Sundays and Tuesdays, our "weekly outings" will result in us being out of the house about an hour each – enough to avoid cabin fever but not so much that my homebody tendencies will be overwhelmed.
Our Summer Schedule: Daily Routine
Structuring our days was probably more important than structuring our weeks. I'm a firm believer in letting my kids be bored, but I also know what happens when they're bored for too long or too many days on end. That's why I felt it was important to sit them down and create a routine for our days this summer:
While there is definitely some structure to our daily routine, I've also left plenty of free time for them to be able to enjoy this summer. I've also warned the kids that there will be a lot of days where we won't follow this schedule exactly, but having a routine established will help us to run more smoothly this summer.
Our Summer Schedule: Screen Time Rules
One of the big reasons for creating a summer schedule for my kids was to avoid an addiction to their electronics. We're not big on setting "screen time" time limits (because as parents we generally forget to watch the clock), so we do "no screen time until…" and "screen time ends at…" instead, helping our kids to develop the ability to manage their responsibilities and time.
I printed out a copy of Thirty Handmade Days' summer rules to use as a starting point for creating our own screen time rules for the summer. We decided we needed a "morning edition" and an "afternoon edition"…
Morning: No Screen Time until…
High Five done
Bible time done
chores done
played outside 30 minutes [OR played a game together 15 minutes AND read 15 minutes]
Afternoon: No Screen Time until…
Summer School done
picked up room/toys/books/etc
played outside 40 minutes [OR played a game together 20 minutes]
As with any of our summer schedule details, I've told the kids I reserve the right to allow (if I need an hour of quiet – to nurse, nap, or work – before we've hit free time on our schedule) or deny (if kindness and respect have been missing, or if it's a particularly gorgeous day and I want them outside to enjoy it) screen time at any time.
Creating structure to avoid chaos will help us to better enjoy our time together this summer. Do you set a summer schedule for your kids?
Additional recommended resources: